In 2012 we launched the airborne equivalent to YachtForums, but a few months ago the flight was hi-jacked due to vulnerabilities in vBulletin. Although we quickly recovered, it exposed a security risk for YF. Today, we're proud to present the new JetForums, based on a highly modified version of XenForo. We encourage viewers to visit JF because you'll be looking at the future of YachtForums.
We worked hard to create a User Interface that is not only familiar, but more streamlined and secure. Ultimately, it's a better forum software program and soon, YachtForums will become XenForo-based too. Hope you like it 'cause this is the future...
JetForums - Jet Aviation's Premier Online Community
***
| | | |
| --- | --- | --- |
| | | |
Diesel generators convert chemical energy into electrical energy but produce some unsavory byproducts such as hull stains, foul air and a sheen of unburned oil along the boot stripe.
Fort Lauderdale based DeAngelo Marine Exhaust has teamed with Richard Boggs' new firm EnerYacht to develop, manufacture and install the new SeaClean Diesel Particulate Filter system that effectively eliminates yachting's carbon footprint. For a complete look at this revolutionary system... [
Read More
]
| | | |
| --- | --- | --- |
| | | |
A yacht for the 'high' seas? Of course, it's built in Holland! The Elling 49' "E4" can cross oceans, turn turtle, self-right and has a hull reinforced with two layers of Kevlar. Has the YF crew been smoking something? For the cannabis-free answer, read on...!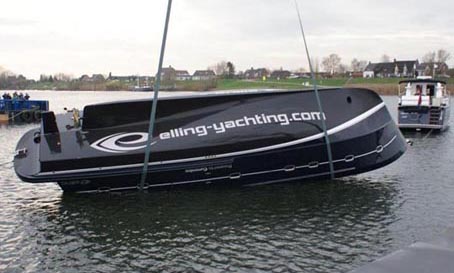 Neptunus Yachts has built more than 2000 boats including one seriously fast superyacht; Millennium's 140' "The World Is Not Enough". Now, they're building a super-safe yacht; the 49' Elling E4. Get ready for a case of the boat buying munchies... [
Read More
]
| | | |
| --- | --- | --- |
| | | |
In the 70's & 80's, YachtFish boats were everywhere. Today, not so much. Why? Product specialization. A good business model to pitch shareholders and bankers, but that doesn't favor consumers. Well, the YachtFish is back and it's better than ever.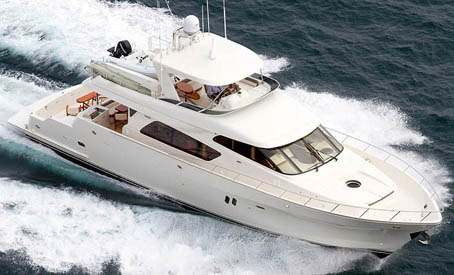 YF photographer Capt. Tom Serio flew to San Diego to catch up with Garret Martin, President of McKinna Yachts for a sea trial on the 2013 McKinna 70' YachtFish; a well thought-out boat whose time has come, again. Join us for an in-depth look at a boat that gets it right... [
Read More
]
Bering Yachts has become known for tough, bring-it-on trawlers that look the part of their name-sake, however the new Bering 18-meter breaks all the rules of the stereotypical 'look' that trawler fans find endearing.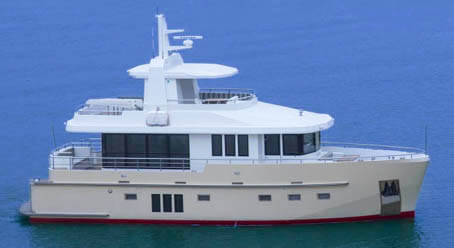 To see if style meets substance, YachtForums editor Judy Waldman flew from Florida to Antalya, Turkey to sea trial a trawler about to make big waves in the ripple-speed community. For an in-depth look at this trendsetting trawler... [
Read More
]
FREE t-shirts for YF's Senior Members! As we enter our 10th year of publishing YachtForums, we're celebrating the collective knowledge of some seriously experienced folks who have made YF one of the best resources on the web.
Over the years, Senior Members of YachtForums have taken a lot of time to help others; giving the shirt off their back, sorta speak. If you'd like a free YF t-shirt too,
show us a link and we'll show you a shirt...
[
Read More
]
On April 5th, 2013 Lürssen Yachts launched the World's Largest Yacht, the 180m 'AZZAM'. An industry leader in superyachts, the German shipyard has launched many of the world's largest, most notable builds including Pelorus, Topaz and Rising Sun.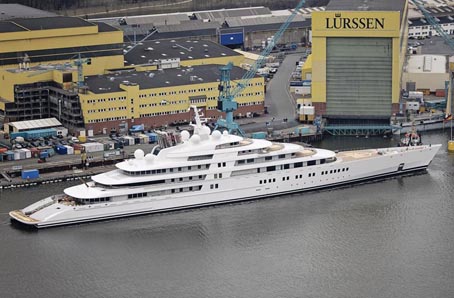 AZZAM breaks new grounds in dimension, performance and technology. In addition to being the world's largest yacht with a top speed over 30 knots, she adds another record in construction time. To see this milestone in yachting history... [
Read More
]
Chris Seymour has designed a new superyacht species named "Elementum", which is Latin for Element. The Elementum concept presents a profile that is one part bleeding edge yacht design and one part Alien with an Attitude!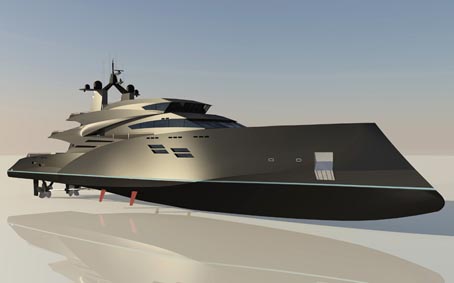 With a militant, machete-like presence, Elementum is cloaked in a veil of subsurface technology, challenging traditional maritime elements with a pirate-intimidating presence. For an in-depth look at the Elementum concept, put your shades on... [
Read More
]
For the yachtsman looking for luxury accommodations, a hint of speed, and the solid slugboat feel of a full displacement, expedition-like yacht, Horizon's new EP69 has much to offer.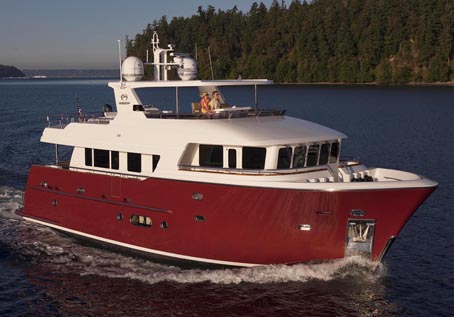 "EP" is Horizon-speak for Expedition and this series of bravado looking boats combine expedition features with luxury yacht amenities to satisfy serious boaters from several yacht segments... [
Read More
]
When one of the world's most established yards enters a completely new market, it begs the questions 'why'? Cheoy Lee has an answer: the Alpha 76' Fly. All too often, sales of express style boats are driven by emotion, but what happens after the sale?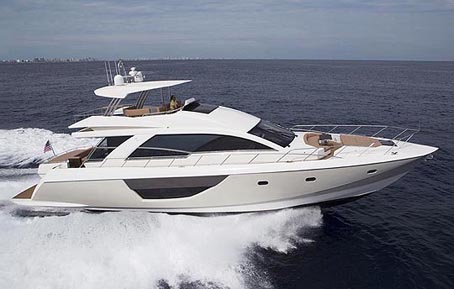 The economic stormy waters have seen many builders flounder, while others have failed. Your new boat may float, but if the builder is taking on water, so does the value of your boat. With 140 years and a diversified product base, Cheoy Lee is here today and here to stay... [
Read More
]
| | | |
| --- | --- | --- |
| | | |
The GT-54 "Le Trawler" by Garcia Yachts is an entirely new entry in the trawler yacht market and she's about to make a big splash in the US, arriving on her own bottom from Cannes, France, just in time for the Ft. Lauderdale International Boat Show. Garcia Yachting has been building aluminum sailboats for over 40 years.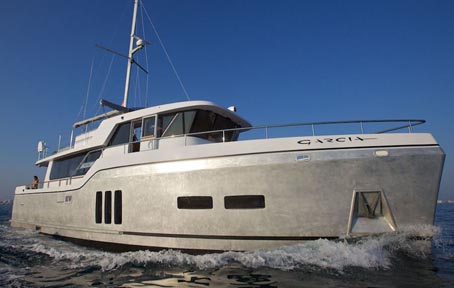 That experience has become a 54' trawler with contemporary, ever-so Euro style. Come along with YF's Judy Waldman for a flight to France and a sea trial aboard this cool new, Atlantic crossing trawler... [
Read More
]
| | | |
| --- | --- | --- |
| | | |
A noteworthy leap ahead in yacht design, Horizon's PC-58 is a Cat whose time has come. While YF is not in the habit of outright praise, on rare occasion a superb build emerges, sporting that rare combination of performance, style, ergonomics and efficiency.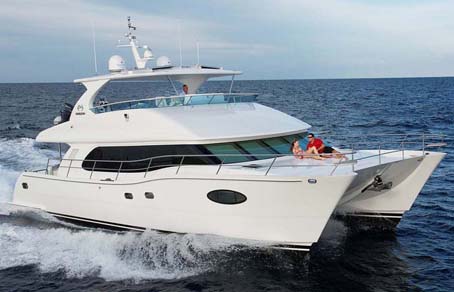 YachtForums proudly presents Horizon's outstanding PC-58 Power Catamaran; a yacht that checks nearly every box on a very discerning list, earning our highest praise. For an in-depth look at this fabulous feline… [
Read More
]
| | | |
| --- | --- | --- |
| | | |
Patterned after the classic and Presidential yachts of the 1920s, Burger's new classic, fantail cruiser 'Sycara IV' ushers in a new era in old world craftsmanship, rightfully taking her place as one of the most exciting yacht concepts of this new century.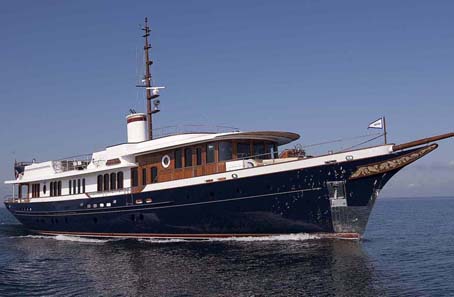 Sycara IV's owners cast a fascinating challenge; to capture the golden age of yachting, bringing it forward while paying homage to the past. Burger's craftsmen took up the gauntlet. The result is a show-stopping reappearance of all that is right about yesteryear. Join us for a cruise back in time... [
Read More
]
| | | |
| --- | --- | --- |
| | | |
Boasting a pedigree that affirms her Dutch builder's innate facility for detail, Moonen's new 124' Trideck "Northlander" flaunts a fine balance of time-honored yacht design with an ultra-modern interior, capturing a near picture-perfect completeness that exudes excellence and seafaring capability.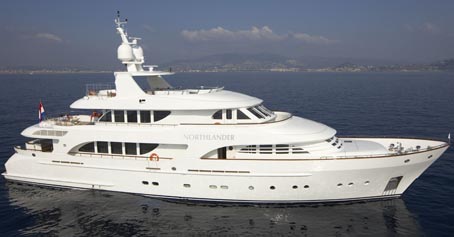 Unifying today's materials with decades of yacht building experience, Moonen adds intimate attention to a ship's seaworthiness, resulting in a reputation for pocket-sized yachts that hold their own in superyacht seas. For an in-depth, YachtForums review... [
Read More
]
| | | |
| --- | --- | --- |
| | | |
Soaring high above the fleet, enter the 257' superyacht "Eminence"; Abeking & Rasmussen's largest yacht ever. Now in the builder's 101st year, YachtForums is proud to unveil this fine-art presentation to our readership of 350,000 worldwide.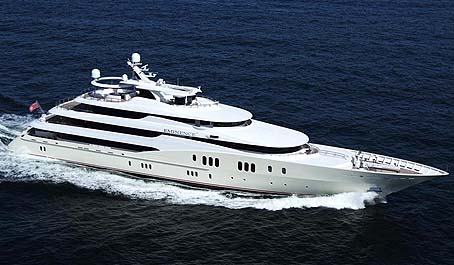 With Naval Architecture by Abeking & Rasmussen, along with interior and exterior design by Reymond Langton, Eminence becomes the new Emperor of the A&R fleet, if not the swansong ship for the late Hermann Schaedla. For a closer look at the work emanating from this werft in Lemwerder... [
Read More
]
| | | |
| --- | --- | --- |
| | | |
As the escalating number of yachts expands each year, presenting Yacht-Watchers with a startling array of design and engineering feats, occasionally something with a far-reaching vision comes along, something truly spectacular that becomes the standard by which others are measured.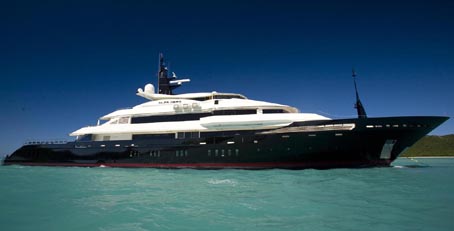 While there are many memorable launches, a select few will become indelibly etched into our memories. For 2008, we are proud to present Oceanco Yachts 269' "Alfa Nero" as the YachtForums "Yacht of the Year"; an epic yacht from the new Dutch Dynasty and the official Dream Boat of the Digital Delirium. For the complete review... CLICK THE PIC!
| | | |
| --- | --- | --- |
| | | |
"Opulence" is a measure of status, especially in the yachting community, and, paired with excellent taste, often defines the character/impression of the yacht itself, as well as its designers, builders, and owners. Rarely, even the highest standards are exceeded.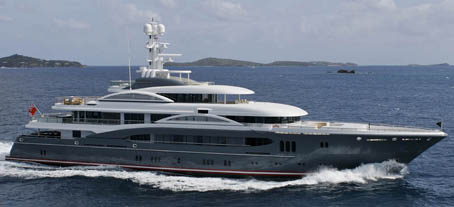 Surpassed only by the superiority of a new introduction, yet given the hallowed heights reached by Lurssen's 68.15-m Kismet, the loftiest adjectives are, perhaps, inadequate. To call her impressive, is simply the grandest understatement. Join us for a date with destiny... [
Read More
]
| | | |
| --- | --- | --- |
| | | |
Trinity Yachts 122' Sportfish "Mary P" joins the ranks of YachtForums finest with an outstanding introduction; a broad-shouldered, top drawer angling machine, ready to tackle major tournaments, striking fear into fish on sheer size alone.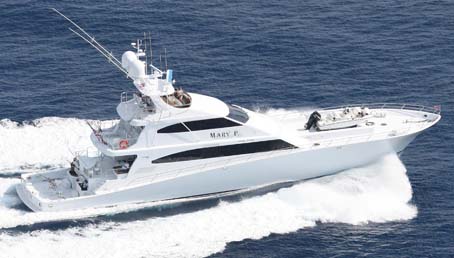 Sporting all the amenities for landing the big ones, this fish fighting whopper-stopper is equally adept for pleasure cruising in legendary comfort. Trinity's 'Mary P' is the perfect combination to star in any port. And now, she's staring on YachtForums. For a full review of this bluefin battleship… [
Read More
]
| | | |
| --- | --- | --- |
| | | |
The new Nordhavn 63 is the convergence of two yachts; the Nordhavn 55 and Nordhavn 62. Each of these passagemaking yachts share the same purpose and capabilities while offering a different profile and presentation.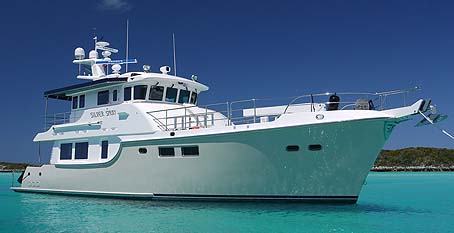 Nordhavn heard the calling for a yacht with the features of the 55, but with the salty styling that put Nordhavn all over the map. PAE has built more models, made more ocean crossings and completed more circumnavigations than any trawler brand. When it comes to trawlers, the compass needle points to Nordhavn… [
Read More
]
| | | |
| --- | --- | --- |
| | | |
From the fertile mind of Mike Kajan comes a new fleet of yacht renderings. This one-man design dynasty has captivated YF followers and shipyards alike. Unlike mere mortals who doodle on paper, Mike uses FreeHand to digitally transcribe his imagination into virtual works of yachting art.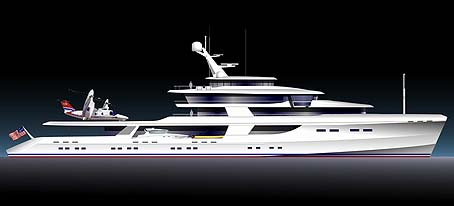 Mike's work was originally featured on YachtForums in July of 2010, when we questioned if good design is a genetic gift or an evolution of an interest? One year later, we have an answer. It's neither genetics nor evolution. Mike's from another planet! And he's one of the most prolific yacht stylists ever... [
Read More
]
| | | |
| --- | --- | --- |
| | | |
Delta Powerboats, a premiere boat builder in Sweden, has launched a supersize successor to their popular line of commuter-style boats, the Delta 54 IPS. This gem of a mini-yacht built from carbon fiber is lightweight, fuel efficient and fast. Powered by Volvo-Penta's IPS system, she is also highly maneuverable.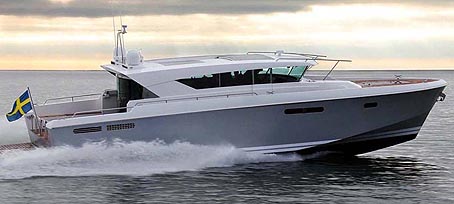 Designer Lars Modin has dreamed up a Swedish beauty to be proud of, proving good design cross-platforms a wide range of lengths. While boat design can be regional, the Delta 54 IPS is not just poised to take on the northern seas, but go to battle in the global marketplace... [
Read More
]
| | | |
| --- | --- | --- |
| | | |
YachtForums' writer Judy Waldman flies to France for a sea trial of a little trawler making big waves in the knot-so-fast community. Bering Yachts is quietly filling an industry overlooked niche for a go anywhere, fear-knot boat ready to do battle with wind, waves or reefs.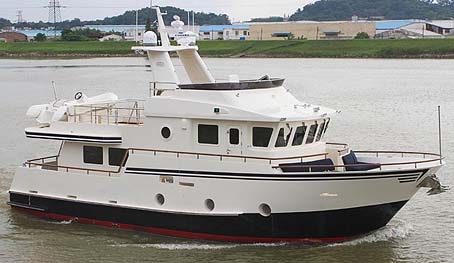 Over the past year, Bering Yachts' banners on YachtForums have been kicking superyacht butt, proving mere mortals read YF too. After much ado, it's time to raise the curtains on this new steel star, destined to become the waterborne version of "the little train that could"… [
Read More
]
| | | |
| --- | --- | --- |
| | | |
Lazzara adds yet another superb new yacht to its brilliant collection. At the 2010 Ft. Lauderdale Boat Show, this All-American in-family enterprise for half a century unveiled its splendid new, ultra contemporary Lazzara Motor Cruiser, the LMC-76, to eagerly awaiting Lazzara fans.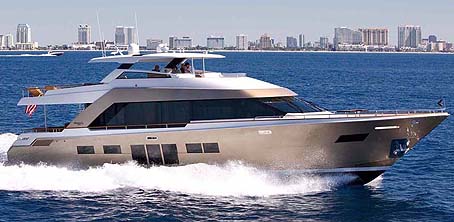 Teaming with Cummins MerCruiser Diesel to build the first triple-pod-propelled motor yacht, she presents handsome good looks that are both cutting edge and yachtsman traditional. The new Lazzara 76' Motor Cruiser is a yacht whose time has come, again. Join YF for a complete sea trial… [
Read More
]
| | | |
| --- | --- | --- |
| | | |
Odessa, the latest superyacht in Christensen's outstanding Custom Series, looms up as a luxurious, thoroughly intriguing overture, certain to become a classic. She is a genuine innovative triumph that glistens with captivating drama and many Christensen 'firsts'.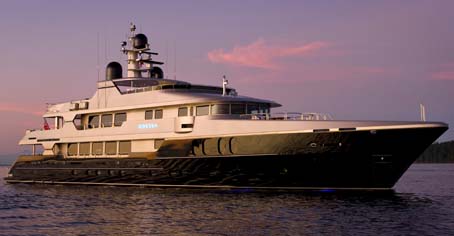 With a growing number of "A-list" owners, as well as world-renown yachtsmen, Christensen is fast becoming the choice for knowledgeable people who want a proven platform and the finest workmanship. Come aboard for a full YF review and explore Odessa's unique inner sanctum… [
Read More
]
| | | |
| --- | --- | --- |
| | | |
The Westport 130' Trideck was originally introduced, to much acclaim, at the Fort Lauderdale International Boat Show in 2001. Since then, it has proven to be a solid, stable platform from which engineers have continued to amass information, further refining subsequent builds... some 28 of them to be exact!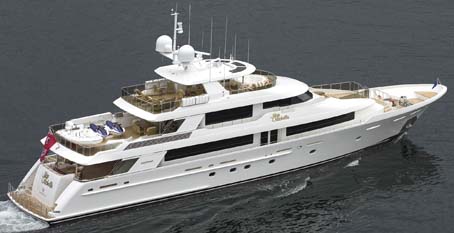 The new Westport 130' benefits from the knowledge accrued in producing multiple reiterations of the breed, but with an added bonus; it's now the biggest bow-rider ever built! With an all new view, perched upon a decade of ingenuity, come aboard with us for a full YF review... [
Read More
]
| | | |
| --- | --- | --- |
| | | |
The new Hatteras 60GT, viewed from any perspective, is simply gorgeous. Its shear line rises progressively to a bow that rivals Hatt's largest sportfish boats. With its Carolina-ish flare and a soft tumblehome transom, this eye-catching, finely balanced sportfish evokes the notion... "Hatteras got it right!"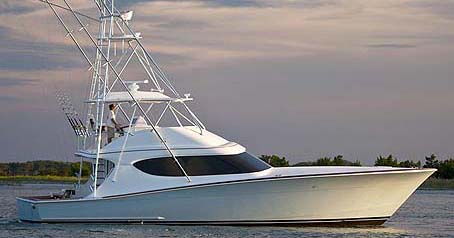 The hull bottom is solid FRP (over an inch thick) with a vinylester resin that precludes blisters. Hullsides, decks & superstructure are Divinycell cored, all 'resin infused', achieving a 40/60 'glass/resin ratio for strength and minimum weight. They got more right too... [
Read On!
]
| | | |
| --- | --- | --- |
| | | |
She stands tall and proud; a testament to today's technology and yesterday's splendor. She is... ATHENA! Goddess of the sea; Zeus of the sail... and one of the most magnificent splashes in yachting history.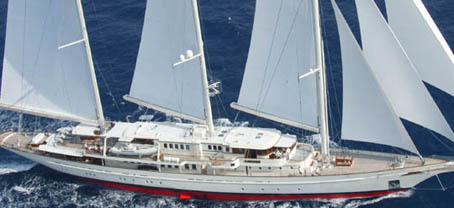 Royal Huisman has struck a remarkable balance of hi-tech materials and old-world craftsmanship with a 3-masted schooner of mythical proportions. From her clipper bow to her fantail transom, she spans 289 feet and stretches 4 years of spirited teamwork. For the complete review… [
Read More
]
| | | |
| --- | --- | --- |
| | | |
Once in a great while, something radically new comes along in the marine industry and even the innovators stand up and take notice. Enter the Axcell 65' Catamaran. A wildly imaginative, curvy feline boasting a patented "Hybrid Air-Lift Technology", which is poised to pounce on traditional hull forms.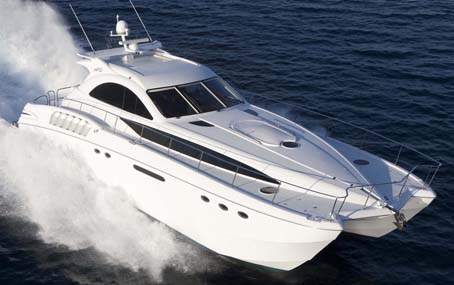 The Axcell 65 Cat holds a special place in evolution, combining several proven technologies which have never been brought together in one hull form. She's a one of kind, precedent breaking advance in marine science, purring sweetly into a new realm of efficiency.
Click the Pic
for the full review!
| | | |
| --- | --- | --- |
| | | |
A legendary name leaps into reality with the spectacular 289' Clipper Yacht "Maltese Falcon", built by Perini Navi and originally owned by an equally legendary, modern day visionary Tom Perkins, who rescued her from certain oblivion. No longer experimental, this big black bird has swooped into modern sailing history.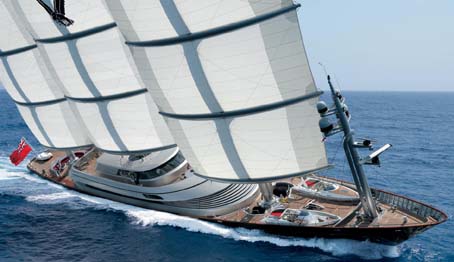 Her revolutionary DynaRig sail plan brings 'Today' into yacht building with a near mythical return to glamorous, long-gone square rigged sailboats. Casting an ominous shadow on typical trapezoids, we reflect on the 4 year flight of the Falcon with chief build engineer; Jed White. CLICK THE PIC and set sail with the most extensive review ever published on this storybook build!
| | | |
| --- | --- | --- |
| | | |
Debuting as a significant Star of the 2010 Fort Lauderdale Boat Show is the first in a series of new builds from Aquos Yachts; the 147' "Big Fish". Built by McMullen & Wing shipyard, BigFish is an expedition yacht designed for charter with a serious cruising agenda.
Edgy, angular and dramatic, Big Fish is devoted to sea-going adventure. If you're ready to become the master of your fate and the captain of your soul, then join us for an expanded YachtForums review and come aboard… [
Read More
]
| | | |
| --- | --- | --- |
| | | |
YF's Carl Camper, Tom Serio, Loren Schweizer, Judy Waldman and Chuck Gnaegy took a final cruise through the Venice of America as we bid farewell to year 2011. In a somewhat skewed look by YF's crew of commandos, our editorial misfits opened fire on a few boats.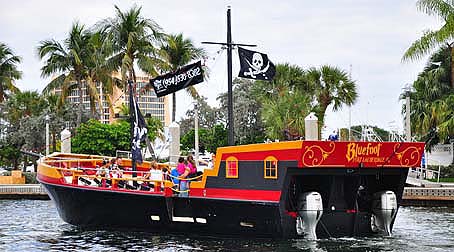 While Tom focused his lens, the rest of us blurred the pics with a little behind-the-screen banter that left a few boats taking on water. If you're landlocked or covered in snow, we invite you to CLICK THE PIC and come aboard as we banter about boats and bash everything that floats!
» Quick Links
» Stats
Members: 32,420
Threads: 17,987
Posts: 184,350

Welcome to our newest member, prakash22
» Online Users: 2,941
55 members, 2,886 guests
1000 islands, 61c40, AMG, aradjan, Beau, bigboatbill, BrianR5525, brunick, Capt J, captainwjm, captholli, christo303, cognac, CR CRUISER, Danvilletim, deanpe, docjr03, Eroc, FISHTIGUA, gcsi, gerrym, GFC, gh12345, Gratton, HTM09, JustMag, K1W1, kootenay67, Ksgboater, mediterannean, Milow232, Monepit, Narwhal, new old guy, nilo, olderboater, pacoengineer, RB480, rcoff512, rcrapps, Rene GER, RER, sdalton, Seaclusion, SeaEric, Sir Henry, Spray, thatcher, TheCWolf, tristanrowe, Uk4life, WilsonHasLeft, Wl3175, Yacht News, YachtForums
Most users ever online was 43,426, 06-05-2013 at 09:43 AM.
» Wallpaper Gallery