As one of the 10th largest yacht builders in the world, Horizon has become an increasingly well-known semi-custom, high quality yacht builder up to 150 feet in the American Market. Throughout Europe, Asia and the U.S., Horizon is recognized as having a popular line of yachts, and previous production has been sold almost exclusively in the demanding European and U.S. yachting markets, where Horizon competes successfully. Since 1987, Horizon has built over 700 yachts in an in-house, state-of-the-art facility located in Taiwan, where 1100 employees dedicate their entire careers solely to yacht building. Collaboration with yacht designers, such as Juan Carlos "JC" Espinosa, John Lindblohm and naval architects like Greg Marshall, has ensured that Horizon's yachts are built to each customer's needs and specifications. Horizon also takes extra steps in their manufacturing process to ensure seaworthiness in all the yachts they build by using the SCRIMP™ resin-infusion molding process. SCRIMP, or Seaman Composites Resin Infusion Molding Process, is a process originally developed by the U.S. Navy and tested by the U.S. Naval Surface Warfare Center and adds a level of strength, durability and consistency, while reducing overall weight. With new NDT testing processes, Horizon are keeping on the cutting edge of yacht construction and constantly implementing new technologies and standards to continue to lead the field in yacht manufacturing. With a new Marina located in Kaohsiung City and plans to expand, Horizon are one of very few manufacturers anywhere in the world with their own facilities to support their owners. Horizon is committed to continual growth in the yachting industry and offers customers seven series to satisfy various lifestyles: E series, EP series, P series, PC series, RP series, T series and V series.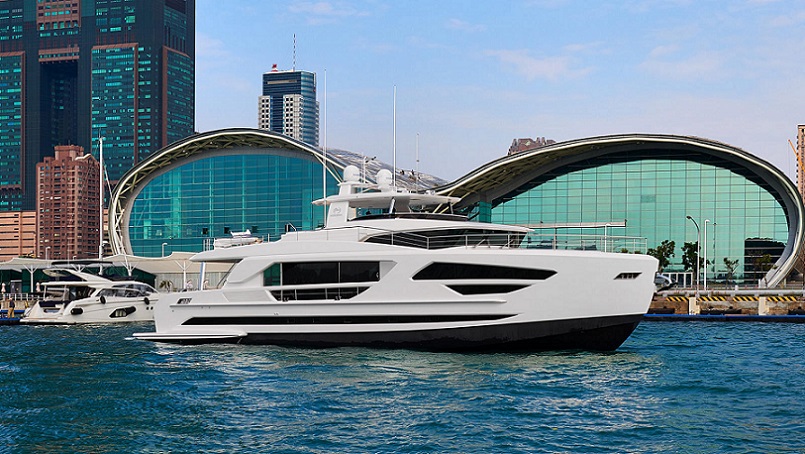 The Horizon FD85 model is progressing well having recently picked up the fifth sale. The new FD85 only made its debut to the world last year at the Taiwan International Boat Show and has already sold to clients around the world in Japan, the US and Europe. It is natural that the fifth hull will see personal customization as requested by the European owner. In fact this hull will have a five cabin layout for guests with two cabins devoted to grandchildren, two doubles and a full beam master suite.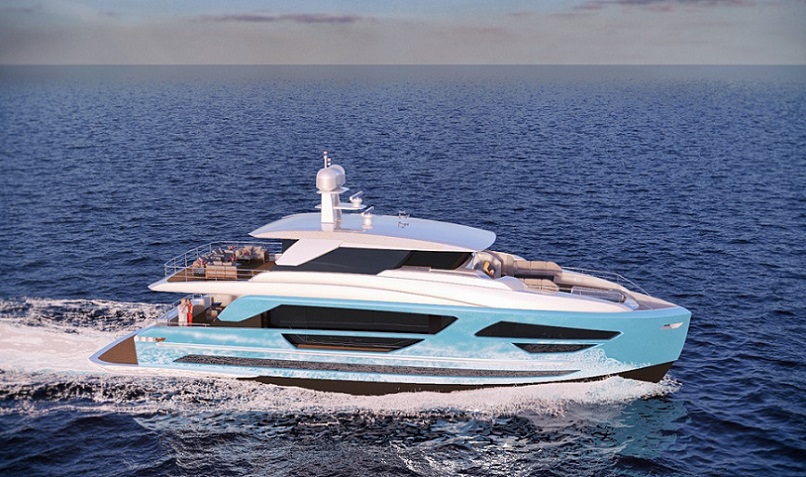 The story of how "Skyline" is coming together at this point is an interesting one. The yacht is being built for a customer that is stepping up from a 50-foot yacht. Perhaps they did not intend to be building a new boat so soon as they have been enjoying that boat since December 2014. The orientation captain of that craft told the couple -back in December 2014- that in two years they would be needing a larger boat, to which they thought the idea was ludicrous.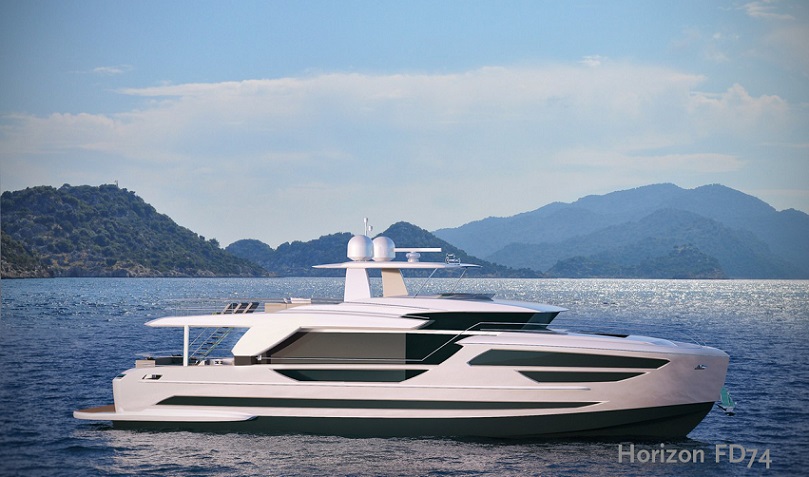 Taiwan based yacht company Horizon Yachts recently revealed two new models in their 'FD' series. You may remember the FD series coming to the fore last year and if you attended the Taiwanese Boat Show earlier this year you would have seen the FD85 debuting at the show. However, two new variants have been added to the series and they are the FD74 and FD102. The FD74 and FD102 models are currently in their final design and engineering stages. The FD74 is actually more like the FD85 just slightly smaller but offering great space and beautiful interior design.