Crescent Yachts was began by Jack Charles, who envisioned building the finest megayacht possible… for himself. He started Crescent Yachts in 1986 in Richmond, British Columbia. Originally based on Westport's hulls, Crescent later began producing their own molds, known as "Janicki" molds, which were designed by famed naval architect Jack Sarin. This expandable mold concept allowed Crescent Custom Yachts to build yachts from 110 feet to 130 feet in length, giving owners the size they desire combined with the latest hull technology. Crescent Yachts was the first North American-manufactured yacht to meet the Maritime and Coastguard Agency standards. Crescent has even gone beyond the standards in achieving excellence for various engineering systems. Their yachts were primarily a variety of raised pilothouse models based on the expandable hull mold, which offered size flexibility in conjunction with state-of-the-art hull construction. Crescent's yard provides an entire line of yacht services- design, new construction and repair/refit. Quality yacht building depends on the highest standards of marine engineering, architecture and design. Crescent offered the advantages of the innovative Janicki mold designed by Sarin and tank-tested at the University of British Columbia.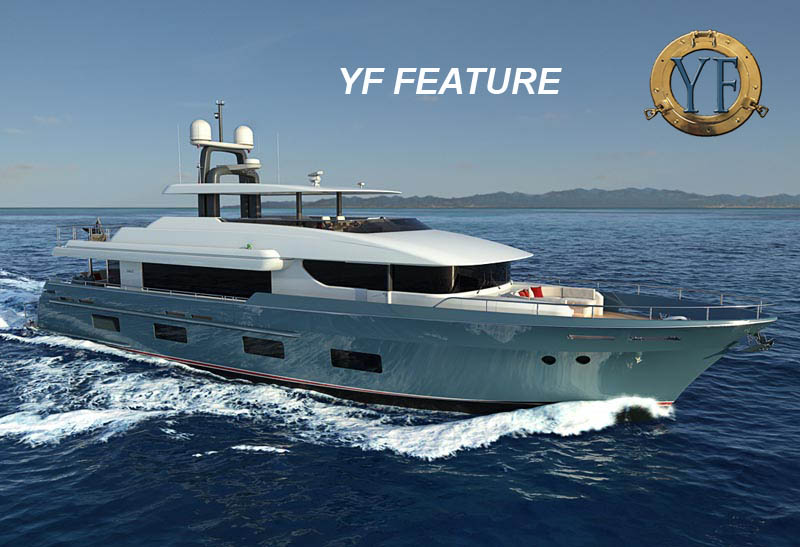 Gregory C Marshall Naval Architects is pleased to announce their latest design and cooperation with Crescent Custom Yachts of Vancouver, British Columbia. It is a beautiful design that is perfect for family adventuring with laid-back cruising in mind. The vessel has a lower deck, main deck and flybridge area offering great space on this 108-foot platform.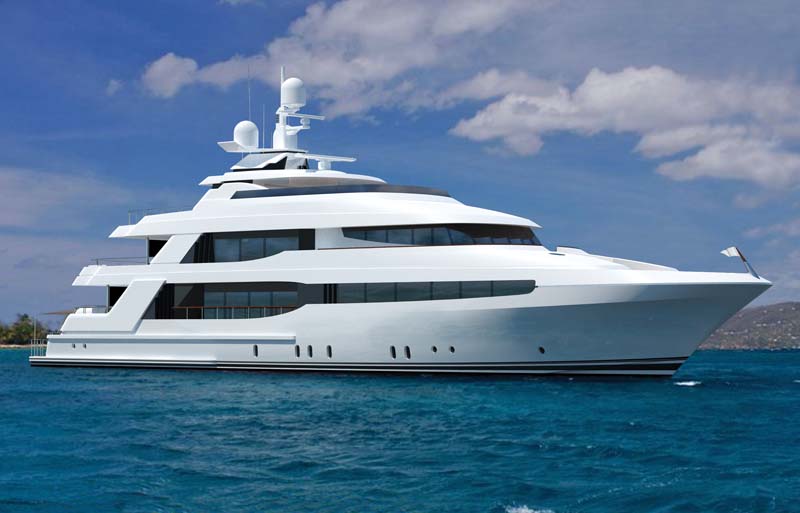 In Build: Crescent 144' Tri-DeckA Boat Building Dynamo Emerges in B.C. Crescent Yachts is nearing completion of its newest and largest motoryacht to date, an all-composite 144' tri-deck designed by Jonathan Quinn Barnett. Scheduled for completion in the first half of 2010, the new Crescent 144' is set to become the crowning achievement of 85 previous launches between Crescent and Queenship, sister corporations under the WorldSpan Marine aegis.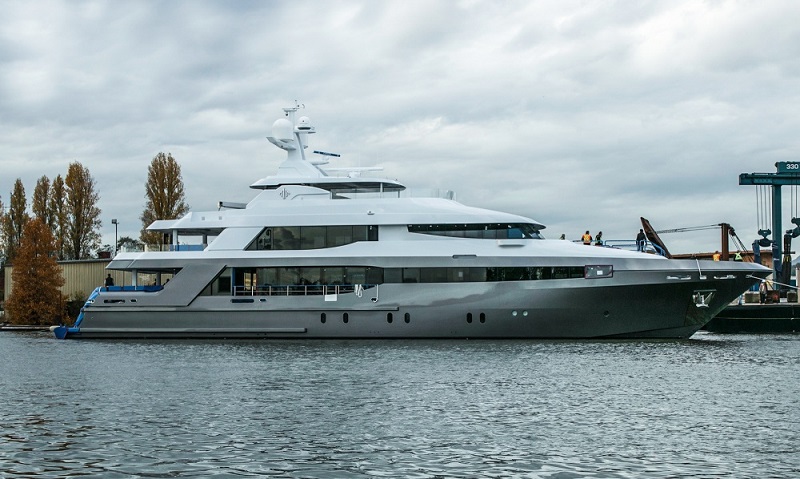 A few months ago Crescent Yachts rolled the 145-footer out of the build shed. It has now been placed in the water where the yacht will be quickly prepared to start sea trials and expected to be delivered to her owner just before the end of 2016. She has Naval Architecture by Jack Sarin and both interior and exterior by Jonathan Quinn Barnett. Previously known as the Crescent 144 before the yard got into the financial trouble, the model name is now Crescent 145. Last year work resumed on this stalled project because a new owner (said to be American) snapped her up.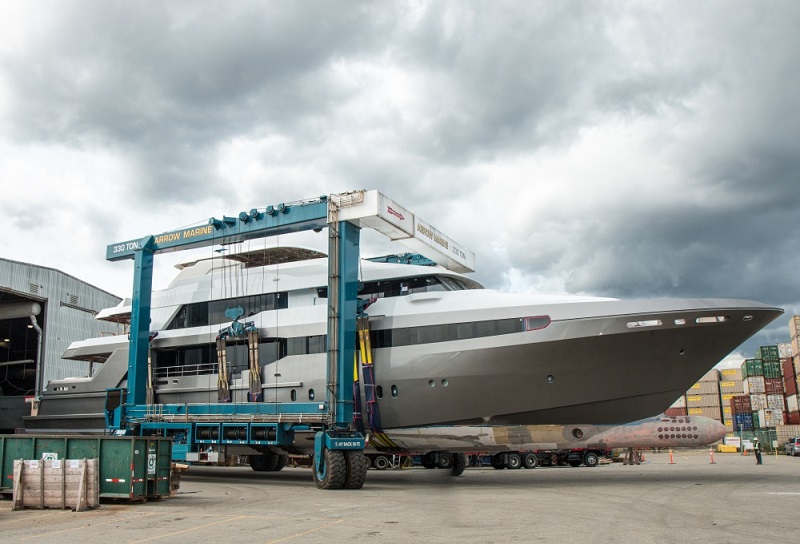 Canadian builder Crescent Yachts has had a cloudy existence in recent years and a number of projects that were in-build fell victim to circumstances. The Crescent 145 - previously known as the Crescent 144 - was one of them. However, thanks to new ownership taking over the yard and the previously stalled 144 project being resold we now have the Crescent 145. She won't hit the water just yet though as there is still much to do to prepare her for that point.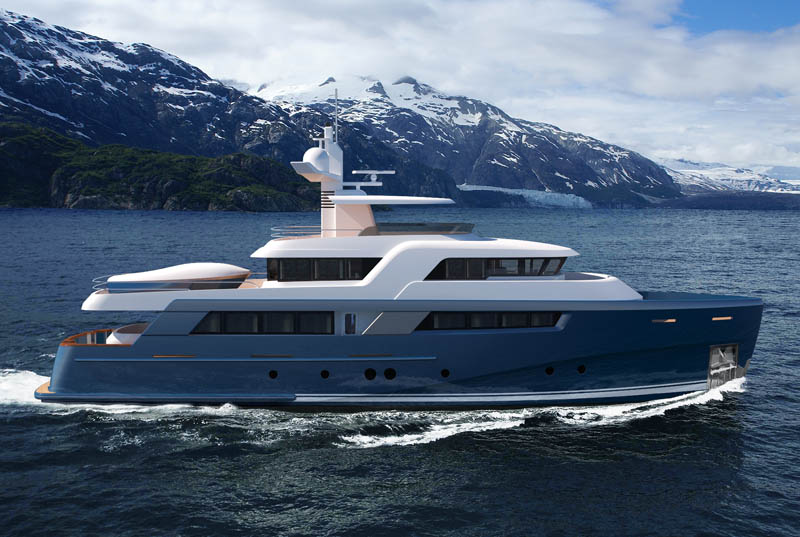 Crescent Custom Yachts has announced new ownership and the restart of new-build with two sold projects and more in the design stage with a client. First to launch in late 2015 is a Crescent 145' designed by Jonathan Quinn Barnett. The Lloyd-classed custom fiberglass yacht has been sold to an American client. A Crescent 110' with an exterior designed by Luiz Debasto is underway for an American client as well. And finally, a Crescent 155' is in early design phase with clients. The new 145' designed by JQB is based on the original 144' featured on YachtForums in late 2009... Crescent 144' TriDeck . The Crescent brand was recently acquired by Tim Charles, the grandson of Crescent's founder Jack Charles, with a goal to restore the brand to its former glory with a focus on elite custom vessels with exceptional craftsmanship.