Hatteras Yachts is a legend that began on the shores of North Carolina. Willis Slane's vision became a reality when their first sportsfishing yacht was launched in 1960. Breaking with all tradition, Slane chose a new material – fiberglass – to build the noteworthy yachts that launched an industry. Hatteras produced its first sportfishing yacht in the town of High Point, North Carolina. The response was enthusiastic and the Hatteras legend was born. In a testament to the ruggedness that has become synonymous with Hatteras Yachts, the original and first sportfish yacht they ever produced is still in service today. Within two years of their first launch, Hatteras premiered their first fiberglass motor yacht and the precursor of its cruising yacht line. Additional sportfishing models quickly followed. The market soon demanded larger yachts, and so the Hatteras sportfishing fleet expanded – first to 50-foot boats and now up to 90-foot convertibles. Hatteras also began designing and producing a line of cruising yachts that now ranges from 63 to 100 feet in length. In 1967 Hatteras added a second manufacturing facility in the coastal town of New Bern, North Carolina. Thirty years later, the original facility was closed and all manufacturing was consolidated at the 95-acre waterfront site in New Bern, where operations remain today. However, some things at Hatteras have not changed. Hatteras yachts continue to set the standard in the yachting industry, by building boats with 5 year hull warranty. All Hatteras hull bottoms are solid fiberglass, with no balsa core. They use PVC non-absorbent foam core in the hull sides and superstructure to deliver a high strength-to-weight ratio. Hatteras features a precise hull-to-superstructure fit, provided by a four-part bonding process. The entire stringer system is composed of all fiberglass members – no structural plywood is used in Hatteras stringers. Hatteras uses fiberglass vacuum-bagging techniques that provide structural and thermal advantages as well. From fiberglass hull bottoms to anti-corrosive fittings, Hatteras Yachts reflect a commitment to continuously elevate the art of yacht building.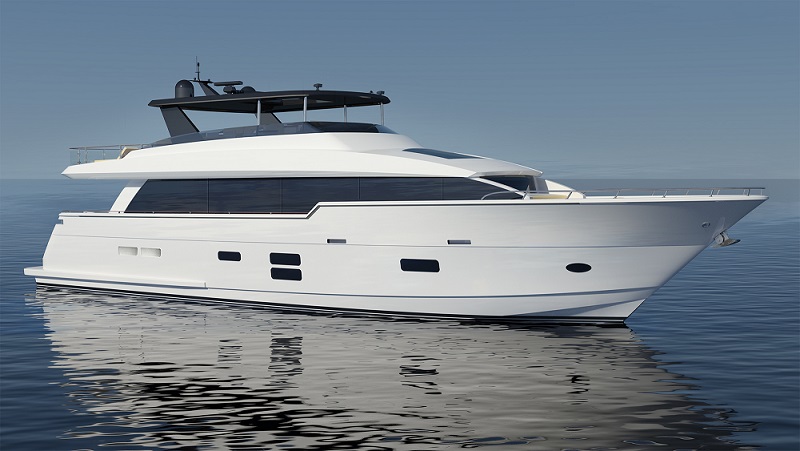 American yard Hatteras has unveiled the Hatteras 90 at the ongoing 2015 Fort Lauderdale International Boat Show (FLIBS). This year's edition of the show commenced yesterday but the actual boat is set to debut in 2017 at the Miami Yacht & Brokerage Show. "We are expanding our Motor Yacht series in order to let our customers choose from a larger portfolio to meet their individual needs. These are semi-custom yachts that give owners a wider range of opportunities for personalization. In addition, we will offer the Hatteras 90 Motor Yacht in both Open and Enclosed Flybridge versions", according to Hatteras Yachts President & CEO John W. S. Ward.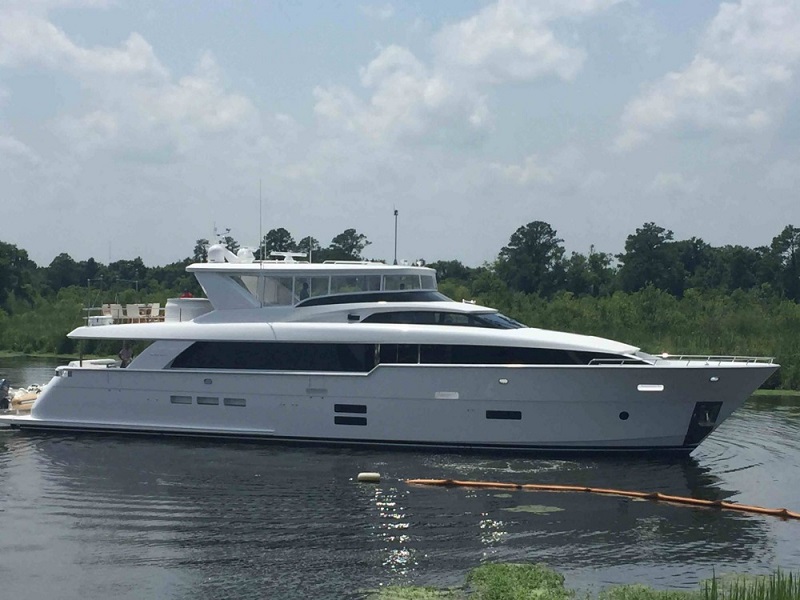 American builder Hatteras Yachts recently launched the third hull in their 100-foot series in mid-June. The first hull was launched and delivered back in 2013 as "Mr. Loui" and kick-started the 100-foot Raised Pilot House (RPH) series. In 2014, Hatteras launched and delivered the second hull in this series seen here at the following link: http://www.yachtforums.com/threads/delivered-second-hatteras-100rph.23952/. Following her christening she was named "Magalita V" for her owners. At this point it is unclear what the third hull will be called.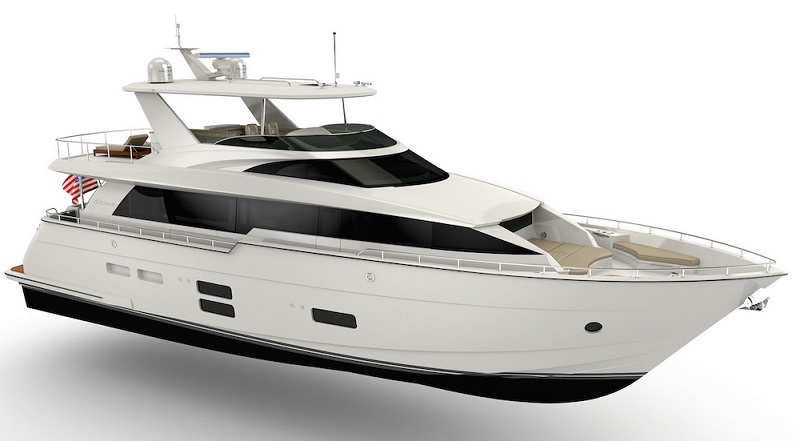 Hatteras had a 70-foot model before, years ago but they now have an all-new 70-footer sleek and sexy motoryacht in this size category. The yacht comes in under the new 80MY as well as the 100MY being a distinct appeal to owners who will want a luxury yacht to cruise around in for a day or weekend but not necessarily a true live-aboard individual. Now the Hatteras 70 isn't exactly 70-feet as the model name would suggest, she actually comes in at 74.6-feet LOA. A decent beam overall of 21.2-feet suffices and a rather slim draft of just 4.6-feet as expected round out the main dimensional specs.