Heesen Yachts is located in Oss, Netherlands. Heesen Shipyards has the distinction of being the first Dutch builder to construct aluminum hulls for yachts. Adding to firsts, a Heesen/Diaship yacht was the first megayacht to surpass 50 knots. Heesen also has the distinction of building the four fastest megayachts. Unique lines, combined with high tech and traditional craftsmanship, characterize the Heesen yacht fleet. From 115 feet to 213 feet in length, Heesen builds displacement, semi-displacement, and performance styled yachts. Heesen was founded in 1978, when Frans Heesen bought the shipyard in Oss, Netherlands. Originally purchased to accommodate his plastics company, he was persuaded to let boat-building operations continue around the shipyard. Soon thereafter, the yard was commissioned to build 4 aluminum yachts, which marked the start of an unprecedented growth period for Heesen. Since then, the yard has produced more than 100 yachts, with many of them being among the most notable yachts afloat, including "Octopussy", which was a break through for Heesen and the yachting community when this megayacht surpassed 50 knots. Built in accordance with the latest nautical thinking, equipped with state-of-the-art control, navigation and communications technology, fitted with powerful, safe engines, and furnished with every conceivable luxury and comfort, each yacht gives new meaning to the concept of 'custom-built'. No two yachts from Heesen Yachts are alike. Each ship is the realization of a private dream. And it is in the realization of those dreams that the shipyard finds its ongoing challenge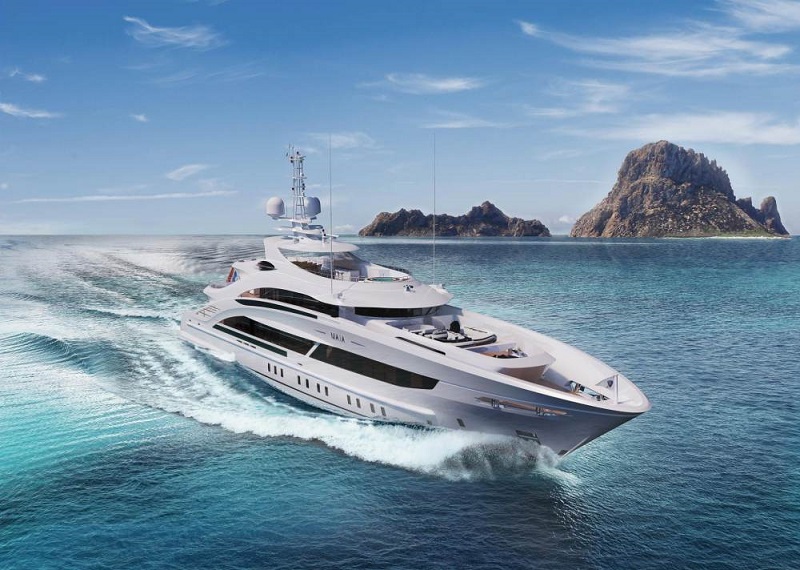 The newest Heesen project emerges to the light. It is a 50-meter hull that is called 'Maia', named after a celestial body. The three-deck design is by Clifford Den with an interior by Reymond Langton. It is a full displacement 50-meter hull that is presently under construction at Heesen's Oss yard facilities. According to the renderings, the yacht will be finished in the traditional all-white.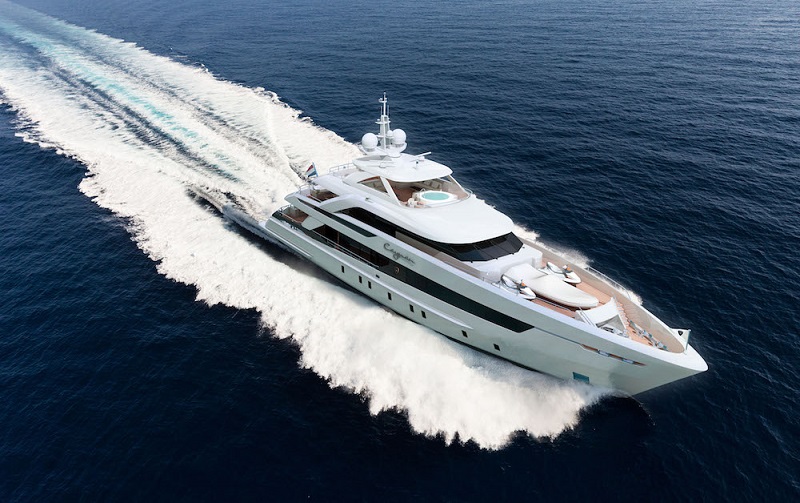 Dutch builder Heesen revealed a new project recently. It was unveiled at the recently concluded Fort Lauderdale International Boat Show (FLIBS) as Project 'Cayman' not to be confused with Caiman. The project perhaps is called Cayman because it takes inspiration from the Caribbean for its cool blue waters, white sandy beaches and generally laid-back vibes. This philosophy is seen echoed on the interior of Project Cayman with the textures, colours and type of furniture utilized.
Heesen has delivered their flagship superyacht, the 70-meter "Galactica Super Nova". She appears very similar to their previous flagship, "Galactica Star". Design is by Espen Oeino with an interior by Sinot Yacht Design. Galactica Super Nova was built under project name 'Kometa'with an all-aluminium construction to the patented Fast Displacement Hull Form (FDHF).