Burger Boat Company builds yachts from its Manitowoc, Wisconsin shipyard. In 1863, Henry Burger started producing 20-30 foot Mackinaw fishing boats for local use. Today, Burger Boat Company designs and manufactures custom motor yachts with a mix of traditional and contemporary designs. In years long past, steel was used to construct Burger's yachts, but now aluminum is the choice. Burger is the originator of the flush-deck cruiser, and incorporates this design into many of their modern yachts. The size of Burger yachts falls between 82 feet and 165 feet in length. Burger has also developed the Automatic Managed Power System, using equipment from several manufacturers together with a programmable logic device to consistently deliver electrical power. Servicing the needs of customers is important to Burger – the company produced the largest motor yacht with complete wheelchair accessibility. The Burger Boat Company story began in 1846, when Simon and Margaretta Braubuger left their home in Homberg-Ober-Erlinbach, Deutschland and immigrated to the United States with their five children. The ocean crossing had a pronounced influence on their youngest child, Henry. Upon arriving in the New World, the family shortened their name to Burger and established a home in Jeffersonville, New York. The upper Midwest, particularly Wisconsin, had become a desired destination for many German European's as the region was similar in climate to the topography of the Old World. In 1856, the Burger family relocated to Milwaukee, Wisconsin where the young Henry honed his skills by working as a shipbuilder at Milwaukee's Wolf & Davidson shipyard. By 1863, Henry Burger began building his own fishing boats. His expertise for building became well known around the great lakes. By 1900, the Burger name appeared on about 100 vessels. Throughout the 1900's, Burger continued to prosper, but entering into the 1980's, economics and difficult business times played a role in Burger being sold to a customer, John McMillian who took Burger through some of it's most prosperous years, a period between 1985 and 1990, when nearly 47% of all yachts sold over 80' in the United States were built by Burger. McMillian tried to relocate Burger to Florida, but was met with resistance and opted to sell Burger to United Shipbuilders, who was looking to expand it's diminishing military contracts into the pleasure boating market, buy acquiring Burger and Striker Yachts. The loss of more military contracts resulted in an abrupt halt of their operations. By 1990, the closing of Burger was ordered. Some 160 skilled workers banded together to form the "Former Burger Worker's" group, dedicated to staying in touch with past employees. In the early 1990's, recognizing the commitment and skills of Burger's many workers, David Ross and friend Jim Ruffolo, entered the picture and began to lay the ground work for the resurrection of Burger and its return to building yachts. By 1993, Burger was re-opened, some 26 months after it had been closed. By 1994, Burger introduced the 91' "Windrush" at the Ft. Lauderdale International Boat Show and it was met with great acclaim, resulting in 3 new build contracts. Since the re-birth of Burger and under Ross's guidance, Burger has launched 26 vessels by the end of 2004, once again establishing the illustrious Burger Boat Company name.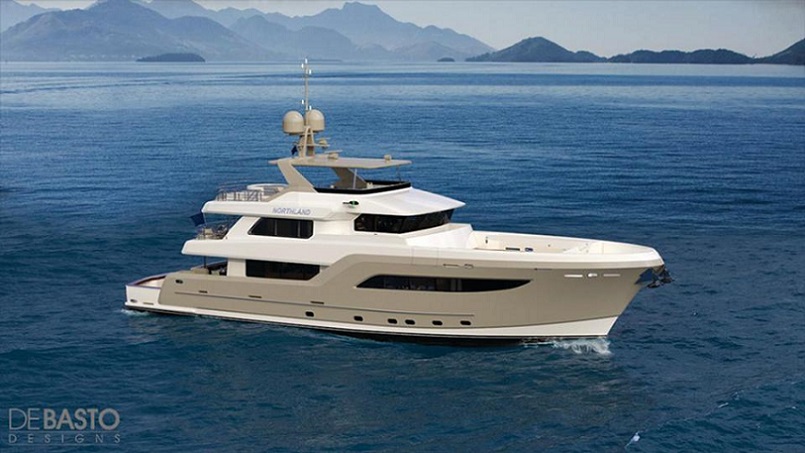 American yacht builder Burger Boat is presently working on a explorer fisher type luxury yacht with an LOA of 31.55-meters. She is going by the Project name 'Northland' and it isn't clear whether this will be her final name when completed. New images emerged of the yacht in its build process state showing a completed steel hull. The three level yacht takes in design by Luiz de Basto both on the exterior and interior.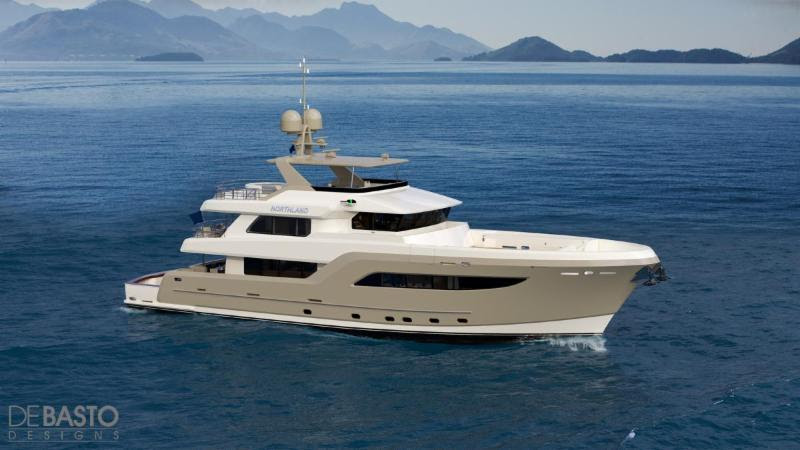 American builder Burger Boat Company has started construction on their 31.5-meter explorer yacht. It's a three deck yacht with a design by Luiz de Basto fitted for long-range cruising. The yacht is a new design direction for Burger Boat. At first glance, the vessel appears to have a trawler-like signature, but the Luiz de Basto touch gives it a unique character that blends motoryacht and explorer elements into a handsome, go-anywhere cruiser.

BurgerBoat presents 214-foot superyacht concept American yacht builder Burger Boat has been showcasing a number of new designs in recent times and none more capacious than this 214-foot superyacht design. The 65.4-meter superyacht spreads over three internal decks and an expansive sun deck. Naval Architecture and design is in-house Burger Boat in collaboration with Gregory C. Marshall. The same combination is also together on the interior design. Accommodation appears to be for a maximum of twelve with the layout distinctly showing four doubles on the lower deck and a master suite forward on the main deck. This 65.4-meter Burger Boat concept boasts a rather large pool situated on the aft sun deck. There is wide open space for gym equipment on this deck along with a well-appointed open-air bar. A long hard-top ensures most of the sundeck remains covered. It is only the pool area to the aft that is left exposed to the sun. Up front, there is ample seating as well as command chairs set up across the beam to allow guests to take advantage of the stunning views from the specific location. Another great feature is the beach club to the aft of the lower deck. Truly a space to be experienced when at anchor. The transom door folds out backwards and two side terraces hinge downward to create an open beach area with breezy and cool interior and expanded living outdoors on the terraces. From this area there is of course, direct access to the sea. Yet another feature onboard is the touch-and-go helipad located on the bow giving another option for the mode of arrival or departure of owner and guests. The Burger Boat 214-footer is being set up to be powered by twin CAT 3512C marine diesels. 1,333 GT won't keep her back, these engines provide enough power to run her to 17-knots and a 15-knot cruise speed. At 12-knots continuously the range is considerable at 5,400 nautical miles making ocean-going cruising an option with 154,500 LT capacity fuel tanks. 65.4-meters is the LOA, 12.09-meter BOA and maximum draft of 2.67-meters are her principle dimensions. For more information: BurgerBoat Company 1811 Spring St. Manitowoc, WI 54220 Home Page | Burger Boat Company ***