Dockwise Yacht Transport (DYT) is the world's leading yacht logistics company and offers hassle-free yacht & boat transport to the most desirable cruising grounds of the world. Dockwise Yacht Transport serves its customers with a global network of 10 offices worldwide. With its own fleet of four semi-submersible dedicated yacht carriers, Dockwise Yacht Transport provides top quality service and reliable scheduling throughout the year to best serve your boat transport needs. A partnership with BBC Chartering and Logistics also allows Dockwise to manage safe lift-on/lift-off boat transport service aboard BBC's fleet of 140 vessels transporting cargo around the globe. The service is for yacht transport clients who need additional scheduling flexibility or the ability to get to destinations not normally serviced by Dockwise's semi-submersible ships. Since its maiden voyage in 1987, Dockwise has transported over 9,000 motor and sailing yachts to various destinations around the globe, offering owners and charterers safe and easy access to many of the world's premier cruising playgrounds.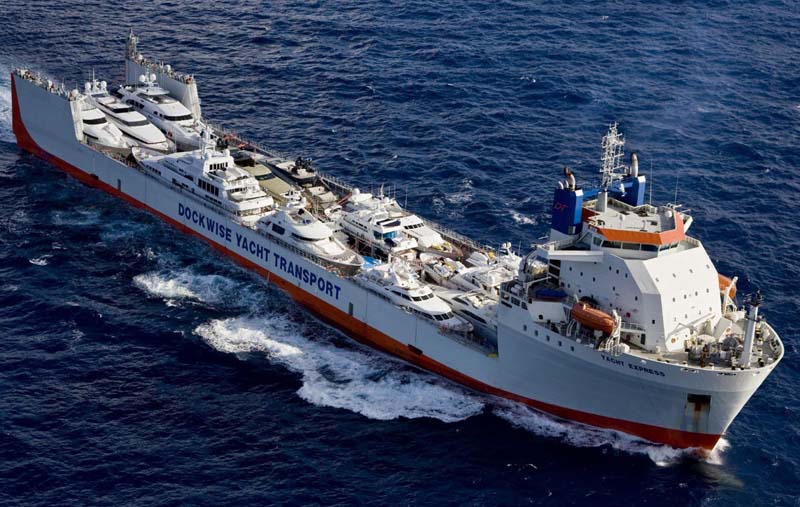 Crossing the Atlantic on her maiden voyage; the Yacht Express. Nestled in her bosom; a seemingly improbable, chocked-in cargo, which number 18 – one and one-half dozen – multi million-dollar yachts. This 685'6" Dockwise steel transporter looms like an entire marina bearing down on the horizon, carrying, deftly sardine-packed bow to stern, luxury yachts. It's an exciting time in yacht transporting, a concept whose time has come... The very size of this new transport impacts our senses, appearing more as a high-rise condominium/yacht club underway, rather than a seagoing suitcase packed with tens of millions of dollars in high-indulgence yachts. Her first voyage headed out from its headquarters in Ft. Lauderdale, for the Mediterranean. Italy. Later, she boasts a schedule to connect the world's most exotic ports. Now, if you want your yacht delivered from Port Everglades to St. Thomas, La Paz, Vancouver, Aukland, Brisbane, Papeette, Dubai, Genoa, Toulon, Mallorca, Southampton, or back – you name it; near any popular cruising ground in the world – you can ship it with Dockwise Yacht Transport, DYT. Maybe the ideal way to go cruising abroad; Yacht Express saves time, and perhaps money, plus a generous portion of wear and tear.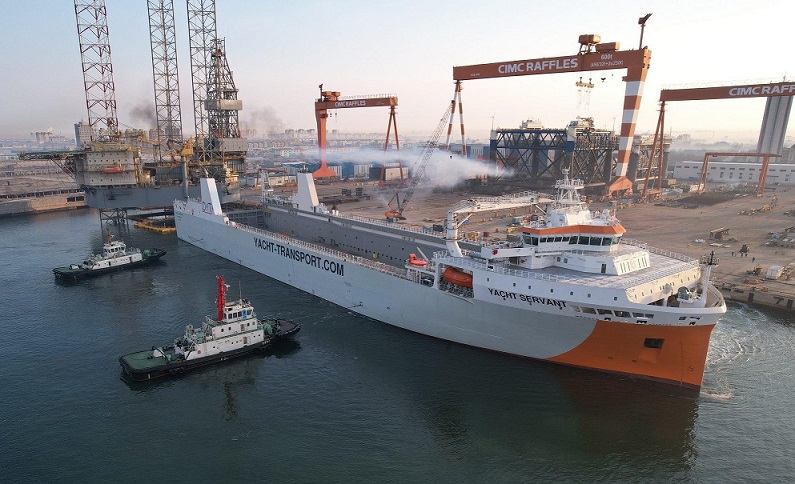 Dockwise Yacht Transport (DYT) has another new super yacht carrier delivered to them. Their latest is a 213.7-meter vessel called "Yacht Servant" -clearly a melding on two of their previous vessels names- . It is approximately 30-percent larger than the current "Yacht Express" flagship. Yacht Servant is now the third yacht carrier that DYT operates. The official delivery took place on January 4, 2022, at Yantai CIMC Raffles Shipyard, China. A few days later the vessel left for its maiden voyage from Shanghai to Panama.