A small industrial unit in Newport Street, Plymouth was the birthplace of Princess Yachts almost fifty years ago in 1965. Founded by ex Naval Officer David King, Princess has developed into a successful motor yacht builder, employing over 2000 people across 6 yards around Plymouth and building over 300 yachts annually. Heritage plays a big part in the success of the company. the chairman David King, still heads up the company and Newport Street remains the main factory site, having expanded to encompass the entire street plus reclaimed land out over the adjoining creek. Naval Architect Bernard Olesinski, has overseen the conception of the hull and superstructure elements of every new Princess Yacht for over thirty years. After achieving the Queens Award for Export in 1988, the company continues to expand globally to the extent that today 90% of production is exported. Princess Yachts was the first European company to be awarded ISO 14001 for its quality control and every model up to 85 feet meets RINA Green Plus. 80% of every Princess Yacht is constructed in house. Precision composite construction and resin infusion technology reduce weight, increasing fuel efficiency and performance while maximizing interior volume. Stiffer, stronger superstructures grant larger glazed areas giving the interiors more light and panoramic views. Princess deep V hulls deliver the a ride that ensures guests and crew are kept comfortable and safe.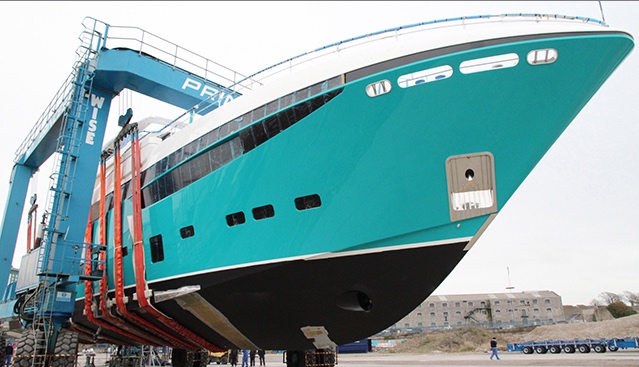 It was only in March that Princess delivered the fourth M40 hull "X5" to her owner. Believe it or not, Princess has announced the launching of the fifth hull in the same series. If you thought X5 was distinctive enough with her sandy hull colour, this new yacht will surely set herself ahead of the pack in terms of instant recognition. The fifth hull is finished in a stunning turquoise colour and there is no mistaking her for any other M40-class yacht. The hull colour is somewhat reminiscent of the OceAnco build, "Sunrays".
The latest 'M'-class from UK builder Princess Yachts is here. The Princess 30'M' is currently under development at Princess' South Yard facility in Devonport, Plymouth. This particular model is expected to join the rest of the M Class range in 2015. The interior of the new 30 'M' will be done by the Princess team but to the whims and wishes of the new owner.