For Gary and Paul Nordlund, growing up in their parents' business has given them a long-range outlook on custom boat building that few others can claim. For them, it's more than a business. It's a lifestyle. The biggest enjoyment comes from the relationships with the owners who have the passion to imagine them. Spanning 50 years of building custom boats, Nordlund has established relationships with the industry's best, like R. Edwin Monk Naval Architect and Tim Nolan Marine Design. Their design and engineering is second to none. Most of the boats that Nordlund builds are for repeat customers. That probably happens for two reasons. First, we build a custom boat that is exactly what an owner wants. And second, owners enjoy the experience of building a boat at Nordlund. If they didn't, no matter how good our boats are, they wouldn't come back. Nordlund owners tend to be very experienced boaters. They know exactly what they want. Trouble is, they can't always find it. Not all in one boat anyway. So that's where Nordlund comes in. They build boats that are 100% custom. If you can describe it, and the naval architects can draw it, Nordlund can build it. In 2014, three new boats were launched at Nordlund and a new 106' is under construction. In late 2013, Nordlund launched a new 111' yachtfisher, in June of 2014 they launched a new 115' yachtfisher and a 106' shallow draft long range cruiser was launched in late Summer of 2014.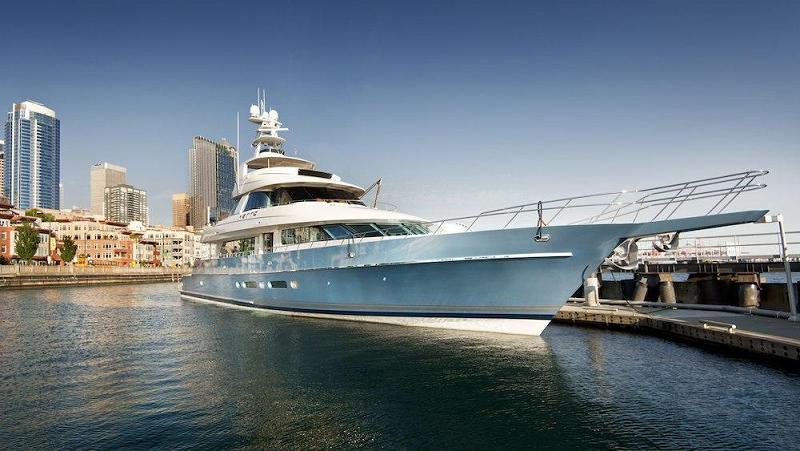 Nordlund completes 35-meter Yachtfish motoryacht "Netto" Nordlund is proud to annouce the completion of their latest work, the 35-meter Yachtfisher motoryacht "Netto". She is run via twin MTU 12V 2000 M93s which are expected to allow an impressive range of 3,500 nautical miles at 10-knots. Jonathan Quinn Barnett -JQB- were responsible for both the exterior and interior design of Netto.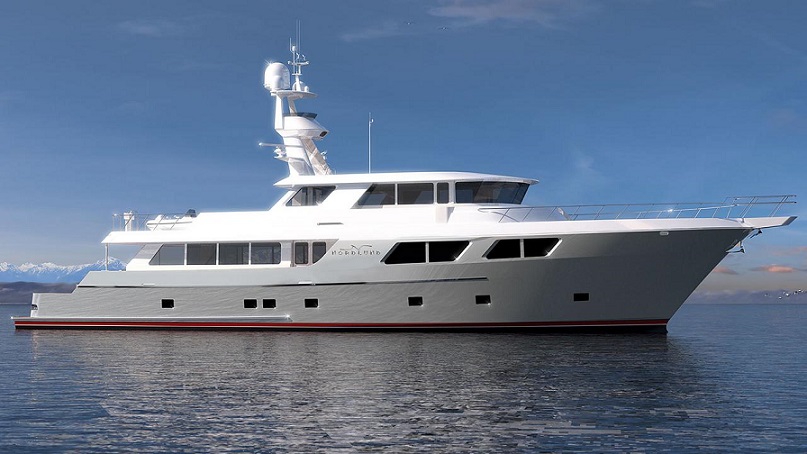 There is an expedition yacht currently under construction by Nordlund Boat Company. The yacht is being built for experienced owners who are working closely with the yard and designers. When completed, the yacht will represent the yards second largest build at 115-feet or 35.05-meters. Of course their largest was around 121-feet and called "Southern Way III". Expect this 115-footer to be completed towards the end of this year.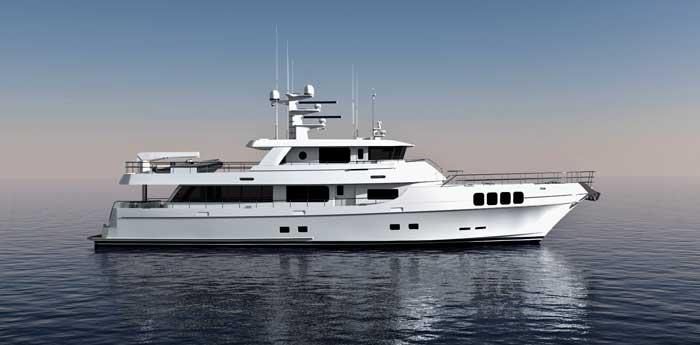 Nordlund Boats recently delivered their 106-foot custom long range cruising yacht (LRC). She is called "Rushmore" and has a design by R. Edwin Monk with an interior by Mary Flores Yacht Interiors. She is a long-range cruising yacht in her category and features an extremely slim draft for her size, just 1.42-meters, which is only 4.8-feet. This 106-foot carries a beam of 24-feet with a four cabin layout for guests. On the lower deck there are three guest cabins, a double and two twins while forward on the main deck in the bow appears to be the master suite. Rushmore is built in fiberglass and displaces around 276,000 lbs at full load. Onboard are twin MTU 10V 2000 M84s, each with around 1,360 horse power.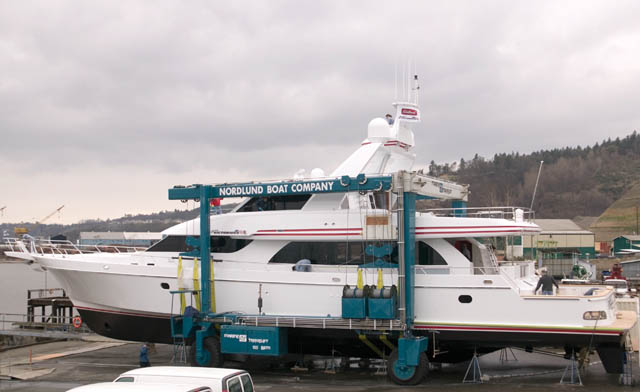 Known both in the automotive racing world and the yachting world, the owners of the new 110' Victorious wanted a vessel that reflected both lifestyles. Having owned a previous Nordlund, the 89' "VictorE", that was similiar in design and sported some of the same features, Victorious carries on the tradition with the same distinctive red stripes associated with their business. Because the owners are avid fishermen, an extended cockpit was a primary protocol, along with a crows nest for spotting the catch.