Marquis' own, internal development team is comprised of veteran designers, engineers, propulsion experts and modelers that represent literally dozens of decades of large yacht experience with committed expertise in all marine disciplines. To make Marquis a world-class yacht builder, new standards were established to ensure each project maintained a higher level of commitment through every step of the construction process. The naval design firm of Nuvolari-Lenard, from Venice, Italy, is internationally renowned as specialists in the design and construction of large, high-end production and custom yachts. This firm's expertise results from their direct involvement in a wide range of yacht-building activities, from design to total project management, to customized interior design, to serving as surveyors and owner's representatives during construction, sea-trial and delivery. Nuvolari-Lenard collaborated with Marquis in the development of Marquis Yachts distinctively sculpted exterior architecture. Don Blount & Associates, based in Norfolk, VA is a naval architecture and marine engineering firm specializing in state-of-the-art technical services for the development and construction of high-performance marine vessels. This company has extensive experience in bringing advanced technology to the design, evaluation, testing and construction management of motoryachts, sportfishers, commercial and military craft. Don Blount & Associates collaborated with Marquis in verifying the structural and performance applications of Marquis Yachts. The BMW Group DesignworksUSA studios offer the highest level of design creativity, diversity and quality. With a deep understanding of future context, this company designs a broad but select range of premium products including cars, motorcycles, airplanes, and yachts. BMW Group DesignworksUSA brings a unique approach to design. This company's enduring creativity is born out of cutting-edge vitality of Southern California's design and car culture, and continually enriched with the highest levels of global design expertise. BMW Group DesignworksUSA collaborated with Marquis in the design and styling on the LS series, as well as the premium décor ensembles.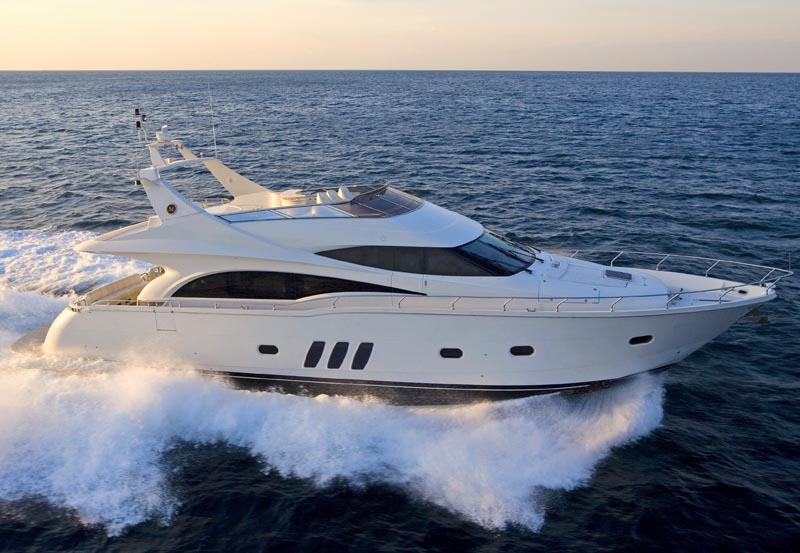 From the aggressive sheer of her bow, to the sculpted silhouette and sleek, chiseled swoop of her superstructure, the new Marquis 720 is a pleasure of the seas and senses. Marquis Yachts, located on Lake Michigan in America's Midwest, now challenges the planet's leading production yacht builders with pizzazz, aplomb; a startling entry to the mid-size yacht class. Following up on the successful launches of other stylish Marquis models; the 59 and 65; this 72' Marquis chose to leap forward; not look back. With an interior design by Valentina Zannier, leading partner of Italy's Nuvolari-Lenard Naval Architects, in Venice; the result is a traffic stopper, inside and out, built to high-style European contemporary vision; yet birthed from, yes, homey little Pulaski, Wisconsin. Marquis' group continues to be the major upscale arm of Genmar Holdings, Inc., which boasts approximately 3,500 employees at five manufacturing centers. This company builds 15 premier brands of recreational boats and yachts. They have become known for training and treating their employees very well. The result is a higher level of production boat building, manifesting itself in the new Marquis 720 Fly.
The first hull of the Lexus LY650 model has been completed and made its international debut at the 2019 edition of the Fort Lauderdale International Boat Show. The vessel has been highly anticipated and with Lexus's partnership with Marquis Yachts to build the vessel and Nuvolari & Lenard to design the interior of the yacht, the finished product came together quite nicely. The point was to expand Lexus' reach from land to water and convey their brand of luxury from automotive to yacht. Nuvolari & Lenard created an interior that best maximized the space available within the limitations of a 65-foot yacht.