Marlow Yachts are built in David Marlow's state of the art, four year-old, 25-acre Norsemen facility in Tainan, Taiwan, which holds every yacht title in manufacturing, including Lloyds Certification Ocean Class Category One classification; LRQA, ABS, ISO9001, DNV, NMMA, and AFYC. All models feature strict yacht architectural criteria, using Marlow's "Strut Keel" technology, a design which employs twin keels at the stern, in addition to a shallow single centered keel. Marlow Yachts consist of only three major vacuum bagged, fiberglass components – Kevlar reinforced – and are used to mold each hull, promoting safety by eliminating extra joints and potential leaks. The engineered Velocijet Strut Keel technology involves tunnels, which accelerate and shape the propeller thrust to significantly lower drag. This innovation allows Marlow Yachts – while performing in top shape offshore – to also sport a draft of less than 5', which means they are able to cruise shallower inshore waters not favorable to many other large yachts. In 1998, Marlow settled on the basic design and direction of Marlow Yachts, in conjunction with naval architect; Douglas Zurn. Kevlar was chosen for hull fabrics because it produces a hull that is more durable than common off-the-shelf fabrics. No polyester resins are used in a Marlow Explorer as history has shown they are more prone to osmotic blistering, have lower initial strength and suffer from ultraviolet degradation when exposed. The Marlow Explorer is built with Vinylester resins and in selected areas where suitable, epoxy. Both these resins hold favorable MILSPEC ratings. In addition, Marlow has chosen ATC Core-Cell for sandwich construction when it became apparent ATC was a quality company with outstanding support and engineering. Laboratory destructive testing carried out by Sigma Laboratories provided independent data reflecting superior strength, impact absorption and numerous other benefits not available in competitive products. By making large investments in up front tooling and methodology, Marlow saves a multitude of man-hours in assembly because the parts simply fit better, reduces man-hours and minimizes warranty repairs. The end result is a world class line of yachts for about the same price as a garden variety production yacht. The material components for the Marlow Explorer reads like a "who's who" of quality manufacturing. Sub Zero, Caterpillar, Cummins, Northern Lights, Franke, Grohe, Schwepper, Ultraleather, Bosch, Asko, Cantaluppi, Besenzoni, Dacor, Wolf and other top brands.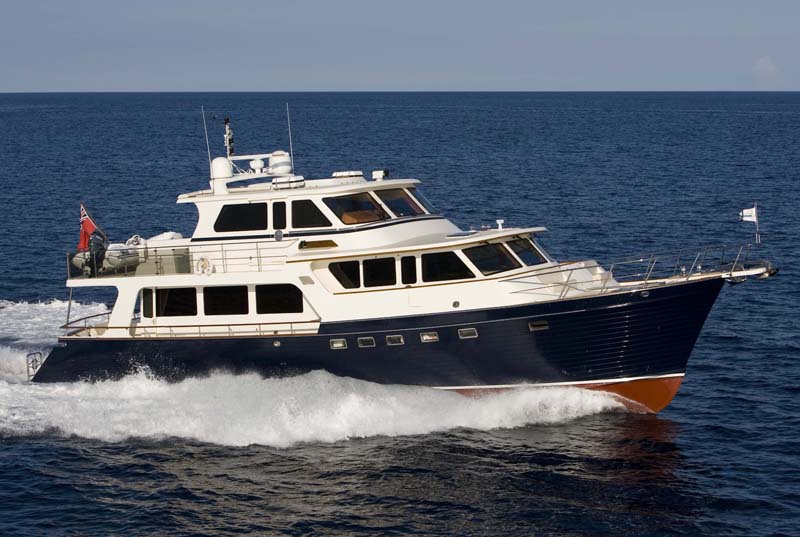 The term "First Love" conjures up soul stirring moments from the past. You may recall certain qualities that were endearing and perhaps even outstanding. And then one day, out of nowhere, you see her. You find yourself stepping back, reminiscing and possibly gazing upon her with a renewed interest. YF brings a review of a former and likely current "love": the Marlow Explorer 72E. David Marlow designed the 72E to be a seaworthy craft, handled by a couple if desired, and almost literally to let the builder sail off into the sunset. But fortune has found David Marlow in that his "swan song" turned out to be anything but sailing away. Marlow's 72E immediately caught the eyes of other Marlow owners, and so David continues to build them, to rave reviews. The Explorer series debuted in 2001 with the 65 and is now counted as part of the 150 total Marlow Yachts cruising the world today. Although the look is classic, the Marlow 72E is really a modern yacht. The 72E has a sharp entry, augmented with lifting strakes and a hard chine, while a gentle flare forward keeps spray at bay. Although the styling is asymmetric, it gives way to flowing lines and a workable interior that Marlow has filled with lustrous wood finishes and top-quality materials.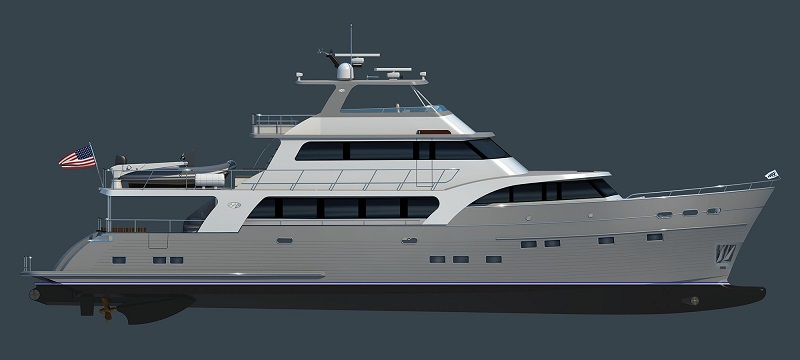 While the Marlow 100 Voyager model is nothing new, it represents the flagship of the Marlow Yachts model offering. It is part of the Voyager line and is a good step-up from the Voyager 76. The first hull in the Voyager 100 is called "ICE" and it has a fitting name given the type of boat were are talking about. The boat isn't ice class however, it does feature strong construction which enables this 100-footer to enjoy conditions from as extreme as the Bering Sea to hotter Southern climes. ICE herself was built by Marlow in the U.S and completed in 2019.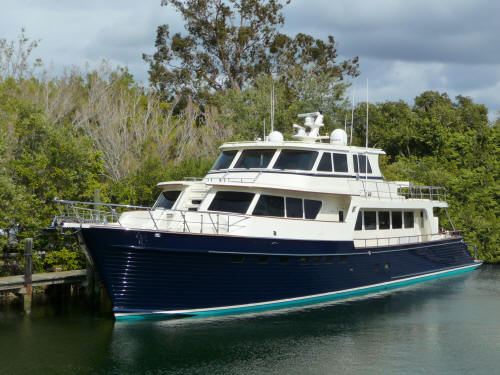 Dubbed as the 'star of the fleet' Marlow's 97E Explorer yacht is indeed the newest model in the fleet. She was publically introduced to the world at the past Miami International Boat Show in February, 2011. Aside from being Marlow's newest model, she is also their largest model to-date making her the Marlow flagship currently.