Hargrave Yachts enjoys one of the most recognizable names in the marine industry, due to the legendary design work of the late Jack Hargrave. For over 40 years, Jack Hargrave set the standard for American yachtsmen and represented the best in design, engineering and planning. Jack's designs were the basis for such yachts as Hatteras, Burger and Rybovich. Hargrave went on to design more than 75 powerboats for Hatteras, producing more than 6,000 yachts. All totaled, he designed over 250 yachts, which recently resulted to Jack Hargrave being inducted into the NMMA Hall of Fame. His influence on yacht design was legendary and carries forward into the yachts we see today. In 1997, shortly after the most famous American yacht designer passed away, Michael Joyce returned to the company after an absence of 20 years to take over as president and CEO. Recognizing that Hargrave was far more than a design office, Joyce explained to Jack's family that "Hargrave" was a brand name and outlined a plan to begin the construction of yachts under the Hargrave name. Joyce, who had spent his career in the sales and distribution side of the business realized that if Hargrave was going to play a role in the future of the yachting industry, they would have to go it alone and could not rely on the reputation of other builders for their future. In a very short time period, with the expertise of a talented in-house design team and skilled Taiwanese craftsmanship, Hargrave yachts has become recognized worldwide for delivering quality and value. Hargrave customers enjoy working with Mike so much that nearly 40% of them have returned to build another yacht, with some on their 4th build. Since the company's inception, they have delivered over 50 yachts, a testament to their engineering, staff and communications ability with their workforce and customers. Hargave's current models range from 68' to 115' in length. They produce primarily raised pilothouse motoryachts that are semi-custom in nature, addressing the needs of their individual owners. Hargrave's offices are located in Ft. Lauderdale, Florida, where they offer sales, brokerage and design services.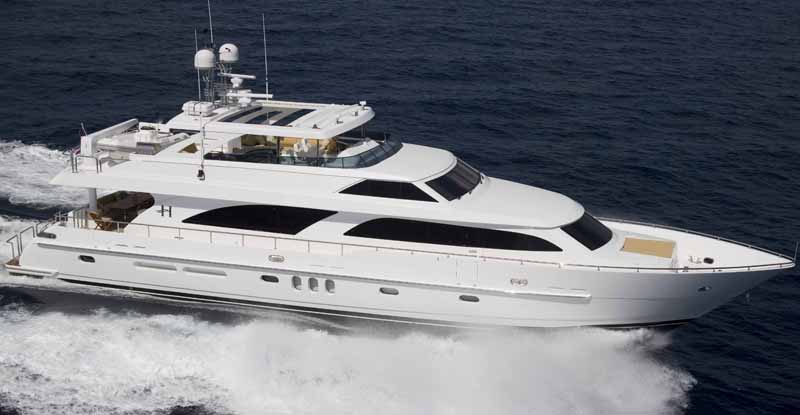 At the 2008 Ft. Lauderdale International Boat Show, Hargrave Custom Yachts stepped outside the box with an innovative interior design concept that quickly became the buzz of the docks. Hargrave's president Michael Joyce, a veteran of the yacht industry, questioned the status quo and in doing so, may have very well influenced the future of the Raised Pilothouse Motoryacht. So what's everyone talking about? A Raised Pilothouse, minus the wheelhouse, sorta speak. Yes, a control station is still present, but it's taken a side seat to open air vistas and views that are unmatched by any raised pilothouse from the past. To the untrained eye, exterior styling and lines make the new 84' look similar to other yachts in the 100+ foot range, including full pilothouse windows. Closer scrutiny reveals a departure from other Hargrave yachts with an emphasis on grand living accommodations and wide open spaces.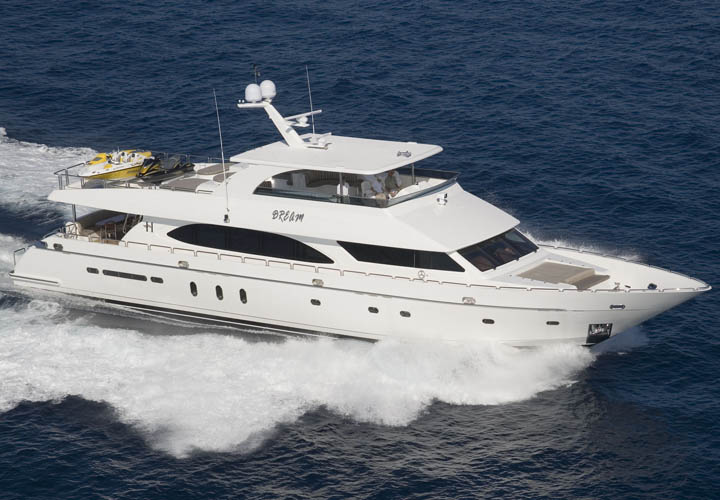 When Sam Shalem decides to give a party he likes to launch it in style: which means perhaps 40 or 50 of his family and closest friends will board his yacht in Manhattan, or Nassau's Paradise Island, or the Exumas, for a soiree they will never forget. Though not a dreamy sort, it has long been his dream to do just that; so his latest party- yacht fits right in to his plans. This Dream -- his Hargrave 105'-- will accommodate the entire party on its generous flybridge deck, and still have room for a 5-piece band. Hargrave Yachts can usually be quickly identified in any marina or at sea -- they have a straightforward, confident, executive air about them; one that says "Board Room" or "Wall Street". They exude top drawer styling in any silhouette against the horizon. The exterior quietly, firmly, announces "Hargrave Custom Yachts".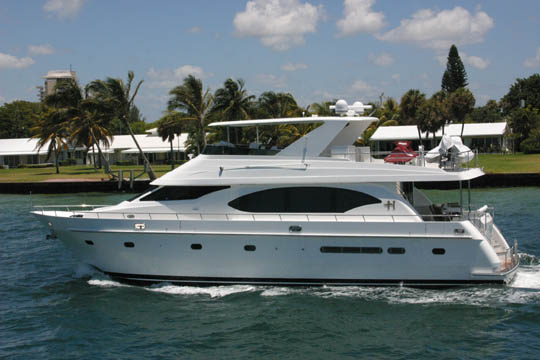 Hargrave 68' CapriA Sibling Comes Of Age... The Hargrave 68' Capri is yacht gleaming with elegance and style, designed for rugged, comfortable long range cruising, as well as fashionable onboard entertaining in handsomely defined detail; She is a production yacht, yet precisely customized to suit her owners' most ardent desires. There is much more to the Hargrave 68 legend than revealed by a simple boat tale. Think customer loyalty and satisfaction. For example, how many times will an owner come back to the same designer for a new yacht? In the case of Hargrave, the answer can be as many as four. That spells loyalty. This is a story about a man and his dream, and the people who helped him make it come true. But it is also about the experienced yachstmen who bought those boats, and who speak volumes about his company.