Feadship Yachts is the combination of two Netherlands shipyards, who started independently and came together in 1949. The De Vries and Royal Van Lent families were the founders of Feadship yachts. The name of Feadship is an acronym for the First Export Association of Dutch Shipbuilders. The marketing of Feadship began in the United States, where an active market for pleasure and luxury yachts was emerging. Feadship has produced custom-built displacement motoryachts, which can range from 70 feet to their largest 282 foot "Ecstasea". De Vries Scheepsbouw is at the heart of Aaslmeer, and the Van Lent shipyard is on Kaag Island. The design center, De Voogt Naval Architects, is in Haarlem. Feadship uses steel and aluminum for construction of their yachts. Orders began flowing for yachts by the mid 1950's. By the 1960's, Feadship achieved steady growth - both in the organization's reputation and the size of the vessels built. By the early 1970's however, Feadship's popularity was soaring, with several yachts being launched each year. Notable business magnates such as Henry Ford and Malcolm Forbes became owners of Feadship yachts, which helped give Feadship a global and corporate identity. With over 200 Feadships gracing the world's oceans, a commitment to supplying total reliability has clearly paid off. On average five major craft are launched annually, and Feadship is acknowledged as a global leader in the construction of premium quality displacement motoryachts. De Vries Scheepsbouw was founded in 1923. The yard is now solely dedicated to building custom-built motoryachts. Today the workforce has expanded to 250 highly skilled craftsmen and two motoryachts are built each year. The Shipyard encompasses two dry docks and one slipway with building capacity up to 80 meters in length. The Van Lent yard was founded in 1849. Today the workforce has expanded to over 250 highly skilled craftsmen as well and the yard builds two motoryachts per year. The Shipyard encompasses two dry docks and two slipways with building capacity up to 100 meters in length. De Voogt Naval Architects was established in 1912 and was one of the original founders of the Feadship organization. Today 58 permanent staff members and a number of freelance specialists cover every discipline of yacht engineering and yacht design: naval architecture, mechanical engineering and interior design drawing. The close relationship between De Voogt and the yards ensures a fundamental understanding of the construction techniques of the builders as well as the utmost quality in design, engineering and construction. So many of the world's most famous yachts carry the Feadship insignia, including no less than 6 Gallant Lady's. One of Feadship's latest launches, which is a testament to their craftsmanship, is the 235' "Utopia".
A legend often stands alone. Adding to, or indeed surpassing one, is never a simple challenge. Designing, building and delivering superb yachts is like a fine art. Requirements, tenets, performance must be observed in the creation of excellent seagoing vessels. However, Feadship has accomplished this rare feat again and again in the luxury yachting world. And while its own excellent creations continue to set new pinnacles, the acclaimed builder has now launched yet another yacht to be noticed, admired, praised. She is the pristine "Lady Christine." On many occasions, the design pinnacle is very much influenced by long-experienced yachtsmen-owners. Here too, with many successes to their credits, Lord and Lady Laidlaw, owners of previous super-class yachts over a lifetime of motor-yachting-sailing dedication, have chosen Feadship. Again. This titled yachtsman, world-class sailor, offers the builder his highest praise, affirming the Royal Dutch Shipyards as the paramount super-yacht producer. The Lord's numerous international sailing-racing escutcheons and ownership of super-yachts attest to his competence in measuring nautical operational achievement.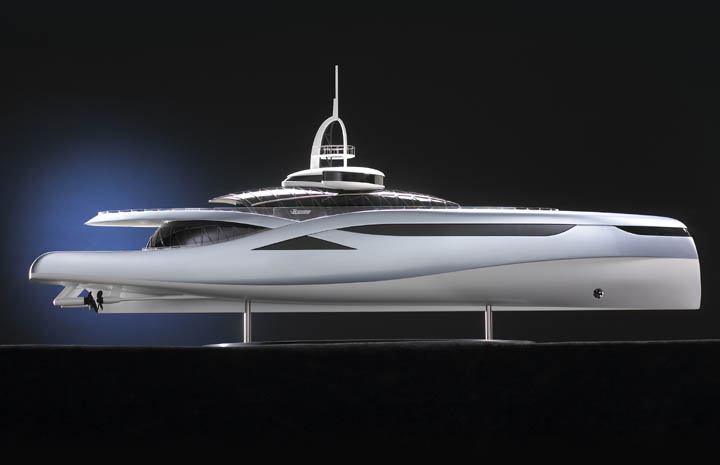 Future Feadship!X-Bow meets the X-Files. Like a Klingon Warship uncloaking itself to strike, Feadship debuted a radical new concept at the Monaco Yacht Show… the 241' "X-Stream". A drastic departure in design, this aXe-bow boat with a see-thru superstructure is as extreme as the name implies. A future Feadship of sorts, the model is presented as a conceptual look at a possible course to plot for the renowned Dutch builder. Although the X-Stream remains a concept, the technology to build it and the interest it has generated are very real. With a contract for build, Feadship could take this boat from theory to reality in short order, as the fundamentals of the design have already been carried out by the De Voogt design studio, in conjunction with the Delft Institute of Technology in Holland. The result is more than a Feadship with a new figure, it's producing numbers that dictate the design is worthy of development.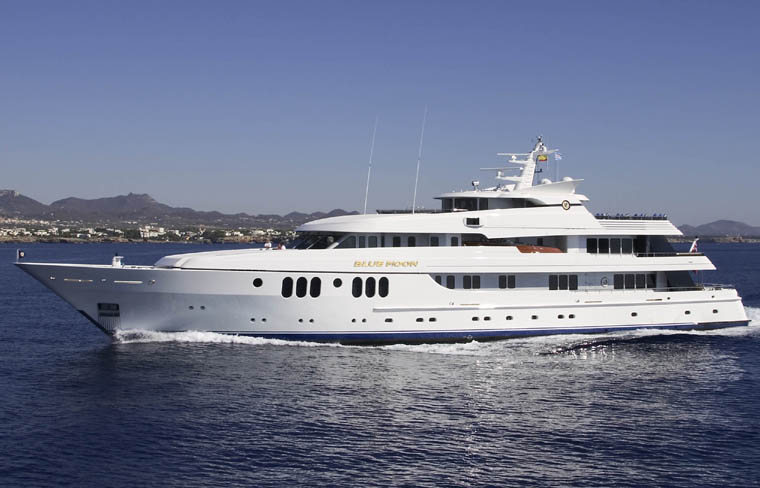 If indeed practice does make perfect; and if the "rule of threes" governs the most intricate proportions of the fine arts, Richard and Judi Duchossois have scored a perfect ten with their latest 198' Feadship, Blue Moon. The third to bear that monogram in a triumph of glamorous yacht building, their treasure yacht has advanced from its storied beginnings through two progressions to arrive at its current pinnacle.