Delta Powerboats is Scandinavia's fastest growing boat brand. Since 2003, the company has developed innovative boats at a fast pace. Delta's ambition is to be a leader in boat design, innovation and sustainability. Delta has quickly become synonymous with well-built, seaworthy, fast and economic boats to poperarte. Delta Powerboats is run by Swedes Lennart Alpstål, Lars Modin and Karl Wessel. As a small, entrepreneurial company with a responsive relationship to their customers, Delta Powerboats has quickly gained the accolades of the world's press. With approximately 300 boats built, divided into ten different models from 25 to 88 feet, Delta is poised to deliver cutting edge design couple with extensive boat building experience. Delta's boats are often recognized for their unique design by Lars Modin, one of YachtForums' moderators and most respected members. His forward thinking designs have created an unmistakable silhouette often accented with a turquoise windshield. In Delta's factory theere are over one hundred skilled carpenters, fitters, product developers and plastic workers. The ISO certified factory, where Arcona yachts are also produced, is one of the industry's most modern manufacturing plants with state of the art machinery. Here, the plugs are produced in a 5-axis router table that accommodates up to a 27-meter hull. Virtually all of the parts are made using a vacuum sandwich technique. The plant now has the capacity to build yachts up to 100 feet.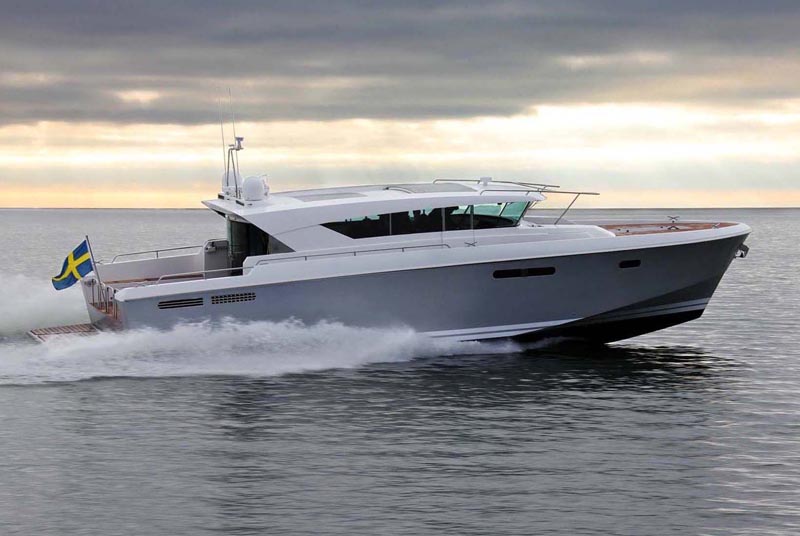 Delta Powerboats 54' IPS ExpressPremiere Swedish Boat Builder Goes BIG! by YF Publisher Carl Camper 'Superlative' is the most apt description of the Delta 54 IPS, a small luxury yacht by Lars Modin, Yacht Designer – Sweden. A gem of a mini-yacht, she's the supersize achievement in a line of very successful commuter-style launches by Swedish builder Delta Powerboats. Creativity, innovation and original thought in yacht design can be hard to come by; engineers long in time have solved the most effective forms for a hull to move through the seas. However, some designers continue to push those boundaries even further, with inventive, attractive yacht configurations, insisting that every tenet of this fine art can be improved, through inventive imagination. Experimentation and creative thought urge those boundaries to expand into new, outstanding designs. Lars Modin, one of YF's most stalwart member-advisors, is one of the talented individuals whose artistic taste continues to produce excellent new approaches in yachting. The Delta 54 IPS, reviewed here, is one of Lars' many outstanding creations. Check this out: For an entertaining yacht-watching afternoon, enjoy an entire galaxy of his imaginative brain-waves. You'll be truly blown away by his enormous profusion of diversity and creativity... Lars Modin Design I / Lars Modin Design II / Lars Modin Design III / Lars Modin Design IV ***
Things are speeding along for Stockholm-based company Delta Yachts just like their Volvo Penta IPS powered craft. They recorded the completion and subsequent delivery of the third hull in their Delta 88 Carbon Fiber series. That particular hull is being prepared to be shipped to the United States to its owner there and it is expected to make a showing at the Fort Lauderdale International Boat Show (FLIBS) in November.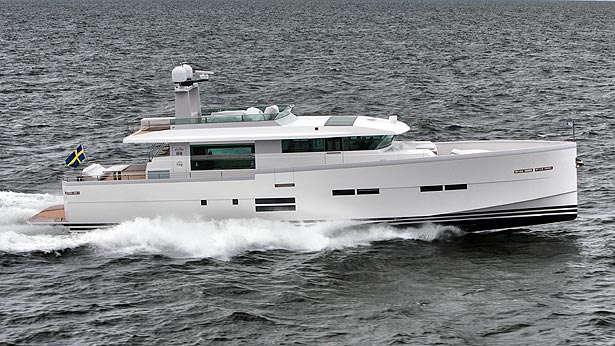 Delta Powerboats 80 IPS nearing delivery Swedish yacht builder Delta Powerboats recently launched the flagship of their current line, the Delta 80 IPS. She is 26 meters long and is powered by triple Volvo Penta IPS 1200 engines. Delta's 80 IPS recently conducted sea trials and achieved a top speed of 37-knots between Estonia and Stockholm. Amazingly she demonstrated 30-percent less fuel consumption over her competitors.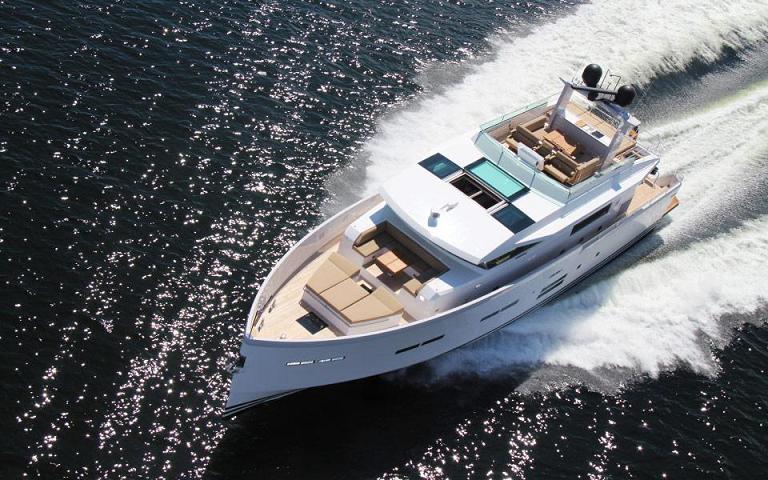 Delta Powerboats warmly welcome You to visit us in Cannes! This time we are proud to present our new flagship model Delta 80 IPS, flanked by Delta 33 Open. 500 boats will be displayed during the historic boat show Festival de la Plaisance in Cannes, and offers 100 premieres! Our booth number is 050 QML Traversante Our booth number is 050 QML Travers Ante. The rise of Delta Yachting has been phenomenal taking just ten years to grow from a 25-foot model to their current flagship, the Delta 80 IPS. Designing and building the new flagship model was not easy either. "The task of building a boat of this size was a real challenge, and to succeed we had to start from the base. We had to rebuild the factory and hire new skilled boatbuilders, technicians, and talented craftsmen in various skills to acheive a perfect result. The entire production is adapted for paying attention to environmental considerations", says Lennart Alpstål, owner of the Delta factory. Thus Delta Yachting is immensely proud to display the Delta 80 IPS at the Cannes Yachting Festival which runs from the 9th to the 14th of September.