Cheoy Lee Yachts celebrates generations of the ownership of a yacht shipyard. Run by the same family since 1870, Cheoy Lee started building motor yachts in the 1950's. The very modern shipyard at Doumen, China is able to produce yachts over 200 feet in length. Cheoy Lee's models include sport motor yachts and long range cruising yachts. Cheoy Lee was one of the earliest yacht building companies to perform full development of fiberglass construction methods, phasing out wood construction. The Cheoy Lee Company has been a major builder of ships and all types of boats for over 100 years. With roots tracing back to 1870 in a building at a repair yard in Po Tung Point in Shanghai, Cheoy Lee Shipyards has had a colorful and successful history. Originally producing wooden commercial craft from a shipyard in Shanghai, Cheoy Lee moved operations to Hong Kong in 1936. Initially specializing in the production of powered cargo vessels to outrun the Japanese blockade, Cheoy Lee later diversified into the large scale production of teak sailing and motoryachts. Most of these were exported to the US. During the 50s trawlers were built for the United Nation Korean Reconstruction Agency. During the early 1960's, Cheoy Lee made steady progress in the development, testing and use of fiberglass and by the mid 1960's wood construction had been phased out. Cheoy Lee became one of the first shipyard users of fiberglass and in turn became one of the pioneers of GRP/foam sandwich technology in the marine field. Today Cheoy Lee makes everything from ferries to tugboats and several models of large motor yachts up to 446 tons and 144' in length. The company's main production facility is located in Doumen, China. This facility is reached via high speed ferry from Hong Kong, with customs and immigrations located next to the yard. The new shipyard is at the center of over 20 shipyards. Consequently, there is a huge pool of skilled labor in the area with an almost unlimited capacity to expand. A state-of-the-art facility is now in operation, including a 1,000 ton railway lift, a 150 ton travel lift, dedicated paint sheds and on-site dormitories that will house up to 400 yard employees. Capable of producing vessels in excess of 200 feet, the new yard promises will keep Cheoy Lee in the forefront of yacht building for generations to come. Classification standards and guidelines are important to Cheoy Lee's manufacturing: Lloyd's, the Hong Kong Marine Department, and the American Boat and Yacht Council have all played a role in forming Cheoy Lee yachts' specifications.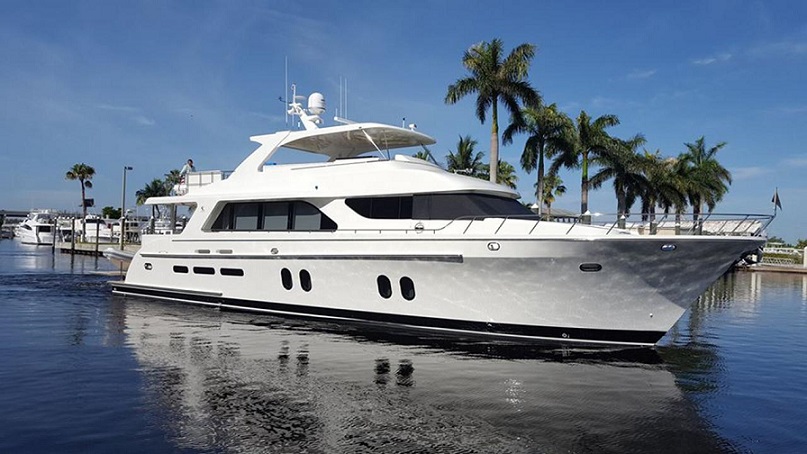 Cheoy Lee is proud to announce that it has completed and delivered their newest Bravo 78 unit. The Bravo line consists of the Bravo 72, 78, 88 and 95 so far. The Bravo 78 takes its design from Mike Buvenich who spent his formative years at the Tom Fexas Yacht Design Studio. The interior is by the Seattle-based designer Sylvia Bolton. Her principle dimensions are an LOA of 78.3-feet, a beam of 20.20-feet and a draft of 5.5-feet.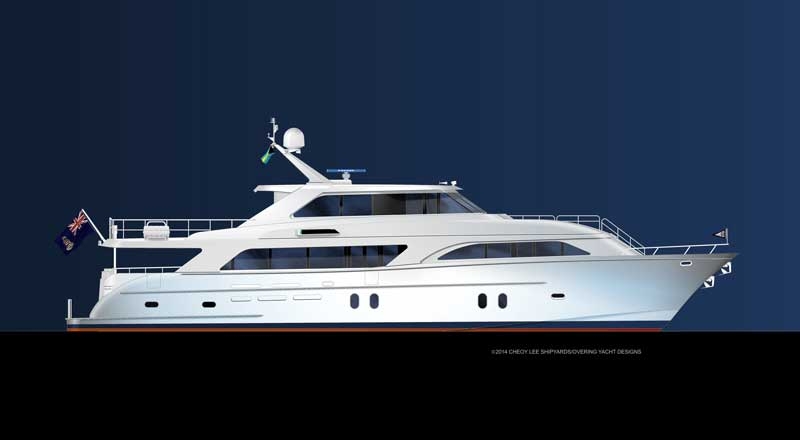 Cheoy Lee is presently working on the Global line 104-footer motoryacht. In June, they detailed the progress so far. Firstly, the motoryacht is part of Cheoy Lee's brand new Global model. She is a tri-deck motoryacht with accommodation for around eight guests in ensuite bathroom cabins on the lower deck. There is accommodation for five crew members in three cabins. The design is via Jon Overing/M.G Burvenich with Sylvia Bolton to guide owners through the tedious interior conceptualization.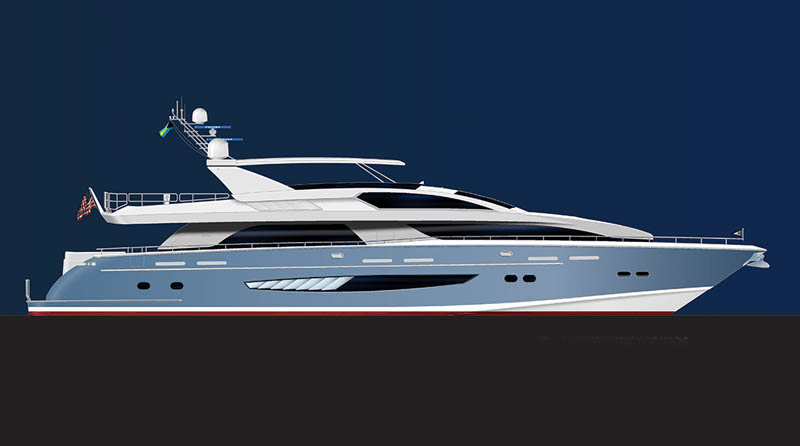 Cheoy Lee Shipyards announced that they will be displaying four Cheoy Lee motor yachts at the Palm Beach International Boat Show, March 26 -29, Ramp 6. Included will be the Alpha 87 Express Sportbridge, Alpha 76 Express Flybridge, Bravo 84 Cockpit Motor Yacht and a pre-owned Bravo 72 Cockpit Motor Yacht. In addition to this impressive line-up, visitors will be able to learn more about the exciting new Cheoy Lee models including the OneEleven, Global 104 and Explorer 150.