Broward Yachts are the product of Broward Marine, located in Dania, Florida. Broward has been building yachts for over 50 years. Navy contracts led to building their first vessels and one of the first Broward yachts built in the 1950's, "Alisa V" was 95 feet long and considered to be a megayacht in this era. Soon thereafter, Broward enjoyed decades of being the most sought after yachts. Broward Marine has focused on creating custom yachts specifically designed for their clients. Frank Denison, the founder of Broward was an avid yachtsman who enjoyed time spent on his creations, but mostly he was adamant about fulfilling his client's dreams and building the finest yachts afloat. Although Broward's were originally built of wood, aluminum became the material of choice and designers began working to blend the new metal technologies with traditional yacht lines. Broward has taken into consideration many favorite customer options, and subsequently integrated them into standard equipment for their newest launches. Broward yachts produced many configurations of the years, including a sport fish, a raised bridge, a raised pilothouse, and a tri-deck yacht, ranging from 98 to 156 feet in length. Although the yard was closed-down for a while in 2004-2005, it has been purchased and resurrected by a successful real estate developer, Tom Lewis. Three new yachts have been introduced, including a 120', 137' and a 160' model. Since assuming control in March 2005, Lewis also has invested in new equipment and upgrades at the boatyard, restarted its yacht maintenance, repair and refit business and hired additional personnel, including many former Broward Marine employees. The previous owner, Glenn F. Straub, owner of the Palm Beach Polo Club in Wellington and Miami Arena, bought Broward Yachts from its founder, the late Frank Denison, in 1998 in a deal valued at $40 million. During Straub's tenure, 15 yachts were delivered over 5 years.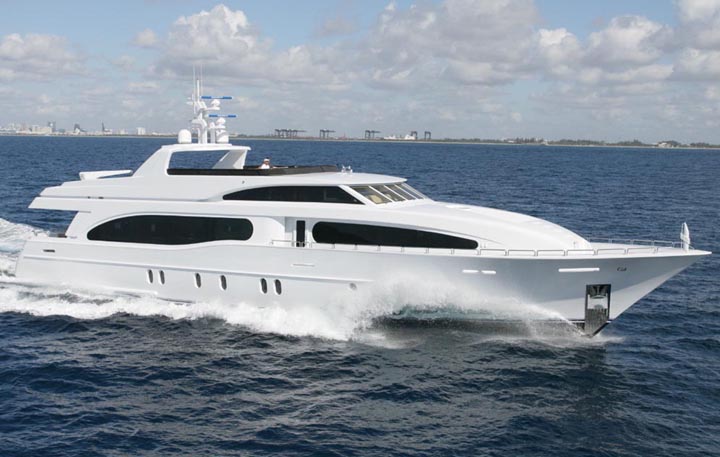 Broward, the American builder of elegant yachts for what seems a lifetime – indeed, 58 years – has once again rebounded with a fresh approach to present one of the finest new American aluminum yacht designs. In surveying and assessing the wants and needs of owners and crews, Broward has created what Naval Architect Evan Marshall and CEO Tom Lewis salute as its "most everything" yet. Broward's Raised Pilot House 120' is the newest product of its staid traditions and new management; soon to be followed by a 137' Tri-Deck and a 160' Tri-Deck, both by Evan Marshall. Impressive design, with exceptional comfort; the new 120' reaches out to yachtsmen and their crews with added strength and seakeeping abilities. The first of the new 120's is hull #601 and was built on spec by the yard. Hull 602 & 603 have already been contracted and are currently under construction. In order to meet the 2007 boat show schedule and jump start production, Broward chose Genesis Yachtline in Viareggio, Italy to build the first 120' interior. A difficult task to say the least, a template for each interior component was mocked-up in Italy, then shipped to the States for dimensioning and revisions prior to actually producing a part. The result is an interior every bit as stunning as the 120's new lines... and we're certain Broward's original interior designer Gertrude Denison (wife of Frank), would agree.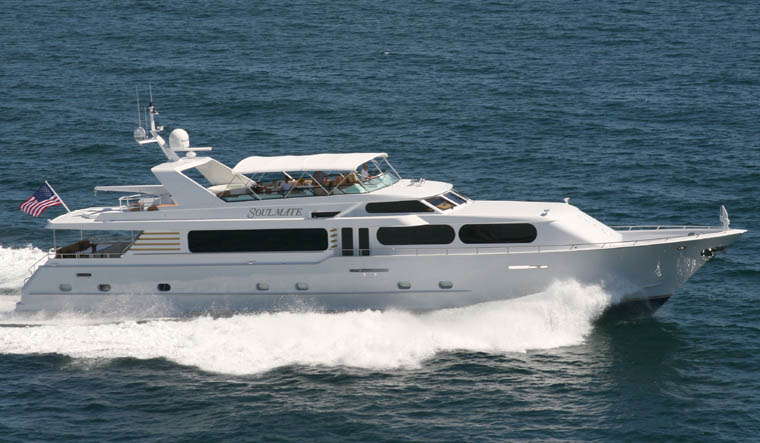 The search for a soulmate is a journey of self-discovery. Finding the right person means identifying your needs and defining your expectations. It's not realistic to expect one person, or one thing, to fulfill every desire, but sometimes we get lucky. For the craftsmen at Broward Marine, it's not just their latest launch "Soulmate" that has stirred a sense of wonder; it's the underlying sense that this was meant to be.

Three months after taking over as the new owner of Broward Yachts in Dania Beach, Tom Lewis announced that the company will build three new lines of yachts ranging from 120 feet to 160 feet. The newly designed Broward Yacht models, priced from $10 million to $20 million, are the main element in the new owner's plan to revive the boatyard as one of America's premier builders of megayachts. Lewis is a real estate developer from Miami who bought the 10-acre yard in March after leasing a Broward yacht and later deciding to buy one for himself. Founded more than five decades ago, the boatyard, formerly called Broward Marine Inc., was one of the first producers of megayachts. In recent years, however, production and sales at the yard, which has made more than 200 yachts, have fallen off. Other South Florida companies build yachts and smaller boats, but Broward Yachts is the area's only producer of megayachts, or luxury vessels measuring 80 feet or larger. Lewis aims at capturing a share of the U.S. and international megayacht market, which has been growing in recent years. The 120-foot model, now under construction, has a raised pilot house, large living and dining areas, five staterooms and can sleep 10 guests. Priced at $10 million, it has a country kitchen that seats eight, marble or granite bathrooms and can carry up to a crew of eight. Buyers have a choice of interior layouts, luxury furniture and other decor. Continued... Broward 120' Raised Pilot House Yacht... Specifications: LOA: 120'-00" LWL: 105'-08" Beam: 24'-00" Draft: 6'-03" Max Speed: 22 Knots Cruise Speed: 18 Knots Fuel: 7,500 Gallons Water: 1100 Gallons Grey: 600 Gallons Accommodations: Master: on Deck Guests: 10 4 Guest Staterooms Jacuzzi Optional: Skylight Crew: 5/6 Mechanical: Engines: Caterpillar C32 (Rated 1825 hp @ 2300 rpm) Generators: Northern Lights Steering: Jastram Anchor: Dual Maxwell Water-Maker: 2 x 1200GDP 120' Rendering...