Blohm + Voss has stood for quality and engineering in shipbuilding for 135 years. Today, Blohm + Voss is a highly specialized enterprise in which sophisticated products are produced for the world market. The activities of Blohm + Voss can be summed up in these areas: naval vessels, fast passenger, ferry or cargo ships and… superyachts. Blohm + Voss is recognized around the world markets for innovative technologies. With the development of the MEKO® design concept in the seventies, Blohm + Voss revolutionized the construction of naval vessels and went from being a traditional shipyard to a systems company for marine high technology. Blohm + Voss began building mega yachts from the middle of the 1980's onwards. With the development of the "fast monohull concept", Blohm + Voss has poised itself to set new standards in the construction of fast and economical passenger ships and yachts. With its in-house design and engineering team, the shipyard follows their client's vision and requirements in order to create a bespoke yacht within the Blohm + Voss shipbuilding tradition. In a history that spans close to 135 years the company has produced many iconic yachts including the 73 meter "ECO', which was launched in 1991 and was capable of reaching 37 knots. Among many other notable yachts launched are: "Savarona" 134m/440ft, "Lady Moura" 105m/344ft, "Eco" 74m/243ft, "A" 119m/390ft, "Mayan Queen IV" 93m/305ft, "Palladium" 96m/315ft and the largest yacht in the world at "eclipse" at over 162m/531ft.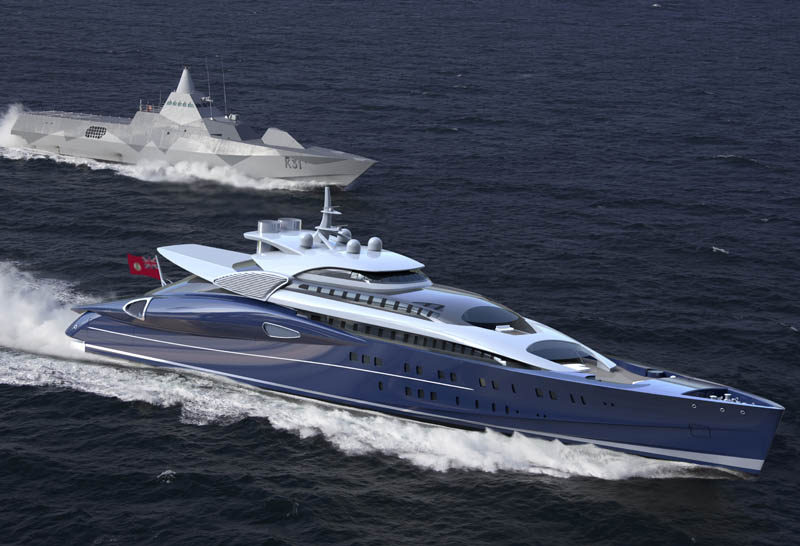 Blohm & Voss Unveils 110m Fast Yacht ConceptSpeed, Size & Pleasure Are No 'Enigma' Blohm & Voss is developing a series of pre-designed custom yachts that will lead to shorter delivery times and reduced building cost. The first project out of the series is the radical new Blohm & Voss 110-meter Fast Yacht Concept. It is a direct descendant of the famous 74m fast yacht 'ECO', now named 'ENIGMA', which was designed at that time to be the fastest yacht of its size.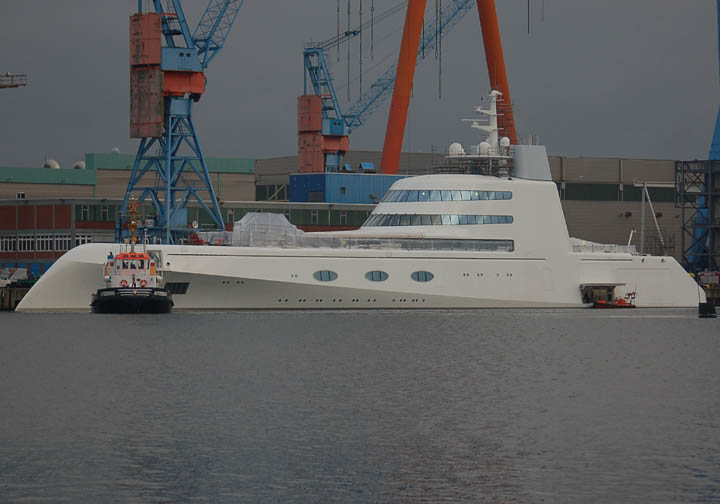 Following the signing of a contract for a large megayacht in beginning of November 2004, Blohm + Voss announced the signing of another contract for the construction of a 118-meter Megayacht' project "SIGMA". This radical reverse-bow yacht, with lines striking similar to a submarine, was recently splashed leaving some wondering if it was intended to float or submerge.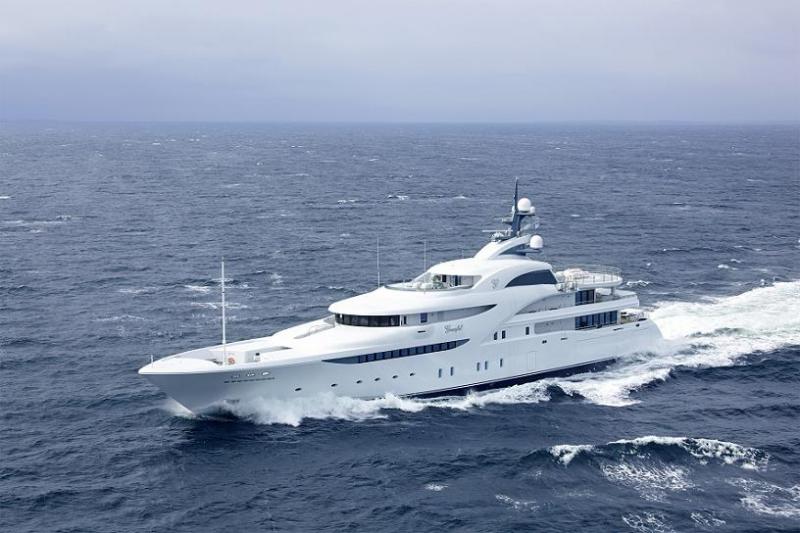 Blohm+Voss delivers 82-meter superyacht "Graceful" The eagerly anticipated yacht "GRACEFUL" has left her berth in Hamburg on Friday, April 18 after the shipyard successfully achieved a challenging 23 month completion programme. This stunning yacht joins an impressive lineage of truly iconic vessels from the renowned yard and currently ranks as the 67th largest yacht ever to be launched. Graceful was fitted out both inside and out by Blohm+Voss working alongside the owner's representatives under the lead of Capt. Alexander Mozhayskiy. A unique, close-cooperation model was developed at the start of the project, thereby optimising the decision-making process, minimising delays and facilitating a unique scheduling system. This led to a very fast build time overall for a yacht of this size, quality and level of complexity. Representing the ultimate in quality, engineering and yachting innovations, GRACEFUL boasts design from the award-winning H2 Design Studio in London, widely recognised as one of the most technically competent design teams in the yacht world. One of the many reasons why the owner decided to have the yacht completed by Blohm+Voss was the unique and complex equipment and design characteristics – one of which is a 15 x 3m indoor pool, which can be converted to a dance floor by raising the pool floor. In addition to a separate owner's area on two floors with a beach door terrace for direct access to the sea, the yacht has two VIP and three guest suites for a further 10 guests. The accommodation areas are equipped with the most modern audio and video equipment. One of the outstanding features in the silhouette of this yacht is its exceptional helicopter landing area enabling a comfortable arrival and departure for the owner and guests. The three days of sea trials, which took place at the beginning of April 2014, proved the extraordinary performance of this yacht. All contractual specifications were either reached or exceeded. For more information: Blohm + Voss Yachts Hermann-Blohm-Strasse 3 D-20457 Hamburg Germany www.blohmvossyachts.com ***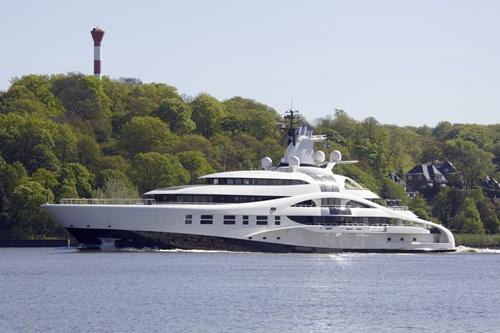 German shipyard Blohm + Voss completed work on another of their large yachts. The latest is the 96-meter yacht christened as "Palladium". She was previously known under the project name "Orca" while in construction. Easily one of the most anticipated projects for 2010 launch, Palladium features a striking design that veers away somewhat from norm. Yet, overall she is in the body of a contemporary design.