Abeking & Rasmussen Yachts are built in its yacht building center at Lemwerder, Germany. Yacht builders George Abeking and Henry Rasmussen founded the Lemwerder yacht-building shipyard in 1907 and have produced over 6,400 sailing yachts, motor yachts and mega-yachts since that time. Abeking & Rasmussen feature environmentally friendly workshops containing high-yield production facilities for yacht and boat construction. Abeking & Rasmussen yachts generally start at a minimum of 98 feet in length. SWATH ship technology is adapted for efficiency, speed and comfort, while the use of varied materials such as wood, aluminum, steel, non-magnetically steel, or fiberglass is used in construction. Abeking & Rasmussen's technical perfection is shown in the motor yacht; Excellence III, a 185 foot mega-yacht launched at the end of 2001, which won the 2001 Superyacht Award for Best Power Interior. In 2008 A&R - as the yard is known by insiders - delivered its 2 largest new build yachts in history: The 78.4 meter yacht "Eminence", and another 78.4 meter yacht bearing hull number 6479. The SWATH-concept as a yacht is becoming quickly adapted and the first ever built SWATH type yacht (Silver Cloud) was rewarded with the World Superyacht Technology Award. Abeking & Rasmussen shipyard, as a specialist in yacht building, professes a policy that no other ship is so charged with emotion as a yacht - so personal that it stands for an owner's dream come true. On that basis it is the yacht builder's task to transform the dream into reality, with a functional and reliable outcome, without aesthetic compromises. Each new yacht is unique, made to mirror the style and philosophy of its owner. Since the opening of its first yacht building yard on the Weser River, Abeking & Rasmussen yachts has grown into a large complex housing five halls for ships and yachts up to 72 meters, as well as office buildings on a convenient inner harbor equipped with a synchrolift. Refitting of yachts is also a specialty of Abeking & Rasmussen, offering expert craftsmanship and technical service through total yacht reconstruction. While refitting, yacht crews can be housed in the shipyard's own apartments. Abeking & Rasmussen can be reached via the Bremen airport, rail, or A-1 & A-27 motorways.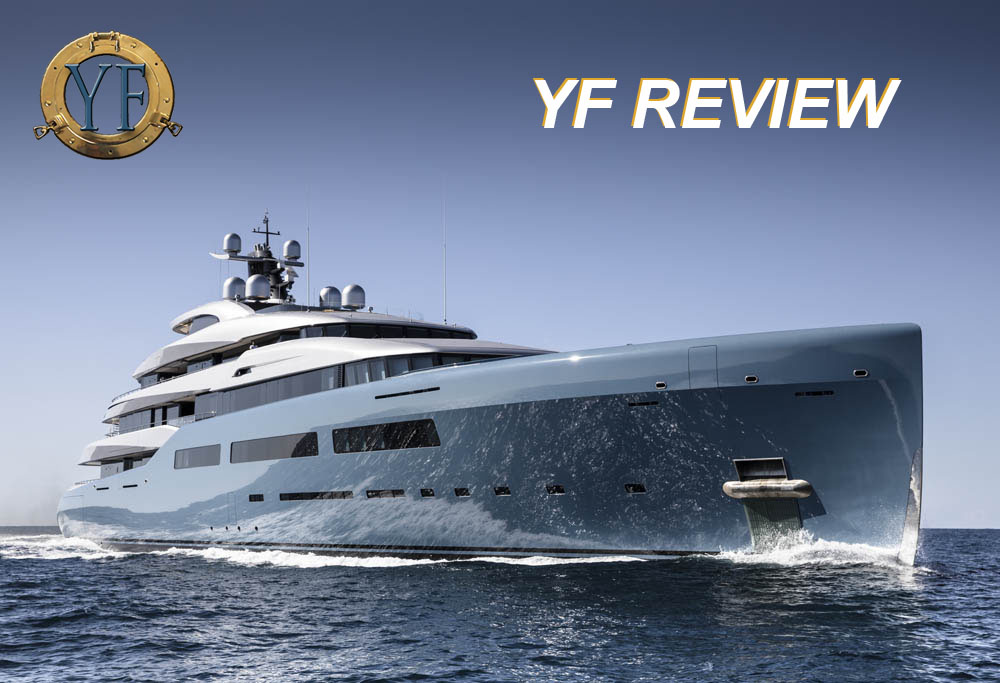 This YachtForums review offers numerous unique perspectives. You will see photos not seen anywhere else on Aviva, as well as insight by the head of design and the project manager, the latter being one of YF's senior members "K1W1" who has made over 7000 informative posts on YachtForums over the years. In conjunction with Abeking's considerable resources & engineering capabilities, these two gentlemen took up the gauntlet of designing and executing one of the most innovative vessels we've ever covered, plus they did it in record time! We spent several hours onboard Aviva with design director Toby Silverton, a gentleman who brings a different perspective to yachting, along with some groundbreaking ideas. Aviva was docked at the Hyatt Pier 66 during the 2018 Fort Lauderdale International Boat Show, an obvious location for this yacht's 323' LOA. It is reported that no other journalists or yacht reviewers have actually been onboard Aviva, except for the 6 judges for the Superyacht awards.
To truly portray her illustrious name, "Eminence", this yacht must clearly soar head and shoulders above the fleet in design and performance; through build and production, as well as that crucially important measure of 'eclat – Pedigree. Beauty, of course, is a given; as well as archetypical excellence. Here also, gratefully sanctioned, is an acquiescent nod to the Lady's long-standing forebears, which have held a leading position in yachtdom for, yes, a Century.