May 28, 2008: Ancona, Italy: The mast and the boom of the Wally 148 Saudade have been successfully installed and the trials of the mega yacht are scheduled to start the first week of June.
The 59.5-meter (196-foot) mast by Hall Spars is built with high modulus MS40 unidirectional pre-preg carbon fiber, it carries four sets of carbon spreaders and weighs less than 5 tons!
The Carbon Leisure furling boom is by Marten Spars. The rig features titanium turnbuckles and the halyard blocks are carried by the mast. The rigging is in PBO.
As a result, Saudade is a truly high performance round the world cruiser combining all the amenities and comfort of a blue water mega yacht with the most advanced construction technologies.
***
LOA 148 feet
LWL 127 feet
Beam 28.2 feet
Draught 21 feet down, 13.78 feet keel up
Displacement 150 tonnes
Speed 12 knots under engine (CAT 600HP @ 2100RPM)
Sail Area 10,882 SQFT
Primary Construction Carbon composite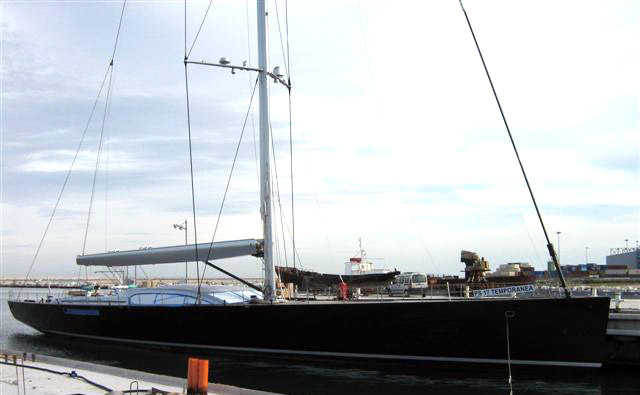 A Wally Picture